Press release
Fee cut for whiplash medical reports
The fees for whiplash medical reports will be cut in the latest stage of the government's plan to tackle insurance fraud and turn the tide on the growing compensation culture, Justice Secretary Chris Grayling announced today.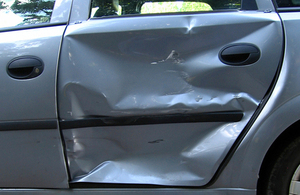 The change is part of a number of new measures to drive out dishonest whiplash claims – bringing down the amount being paid out unnecessarily by insurance companies on fraudulent claims and enabling them to pass on savings to honest customers.
It follows major government reforms to the laws around no-win no-fee deals, which the AA say has been responsible for a record £120 (19%) drop in the average motor insurance premium over the past year, shown in their newly released figures.
The new measures have been announced at the same time as more law changes to tackle the compensation culture are progressing through Parliament (in the Criminal Justice and Courts Bill). These include banning law firms from offering incentives to potential clients and allowing the courts to throw out any compensation case where part of the claim has been proved to be fundamentally dishonest – to prevent people who have had an accident from exploiting the system by making bogus claims or grossly exaggerating the extent of their injuries. There are around half a million whiplash claims each year - and insurers estimate they add £90 a year to the average motor insurance policy.
From October the new rules announced today will mean medical professionals can only charge £180 for an initial whiplash report, reflecting the time taken to carry out assessments and write them up. Currently, prices of up to £700 are charged, leading to concerns that they are being used to generate profit.
At the same time several other measures will come into effect through new court rules, including:
Introducing an expectation that medical evidence will be limited to a single report, unless a clear case is made otherwise, and allowing defendants to give their account of the incident directly to the medical expert, when appropriate
Discouraging insurers from settling whiplash claims without a medical report confirming the claimant's injury. In the past insurers have settled claims without evidence in order to deal with them quickly – meaning some questionable claims are not challenged
Stopping experts who produce medical reports from also offering treatment to the injured claimant, to ensure there is no incentive for them to encourage unnecessary treatment
Justice Secretary Chris Grayling said:
Honest drivers have been bearing the cost of a system that has been open to abuse and it is time for a change.

We are determined to have an improved, robust system for medical evidence - so genuine claims can still be settled but fraud is driven out of the market.
Work is also ongoing on the next phase of reform to introduce accreditation for experts who provide whiplash reports and to establish greater independence in the market, as in the past there have been questions over the impartiality of medical experts, claims firms and others involved in producing reports.
Notes to editors
In February 2012, the Prime Minister David Cameron pledged action to tackle high insurance premiums following a summit with the insurance industry, where insurers committed to pass on savings to their customers.
Since then the Ministry of Justice (MoJ) has:
Transformed no win, no fee deals so lawyers can no longer double their fees if they win, at the expense of defendants and their insurers
Banned 'referral fees' paid between lawyers, insurers, claims firms and others for profitable claims – which have driven the growth of compensation culture
Reduced by more than half the fees lawyers can charge insurers for processing basic, uncontested claims for compensation for minor injuries suffered in road accidents – from £1,200 to £500
Banned claims management companies from offering cash incentives or gifts to people who bring them claims. Recommend a friend deals also banned, along with contracts agreed only over the phone
Changed the law so that regulated claims companies which breach Claims Management Regulation Unit rules around cold-calling and client service will be liable for fines of hundreds of thousands of pounds (as well as the existing sanctions of being suspended of closed down).
Introduced proposed law changes currently being considered in the Criminal Justice and Courts Bill which will also ban law firms from offering incentives to potential clients and allow the courts to throw out any compensation case were part has been proved to be fundamentally dishonest
View the AA's insurance update.

The £90 figure above was published by the Association of British Insurers. The ABI also reported that despite the fall in average insurance premiums, recent figures have shown that the number of dishonest motor claims increased by 34 per cent to a record 59,900 in 2013, with a value of £811 million.

For further information please call MoJ's press office on 020 3334 3536. Follow us @MoJpress.
Published 3 August 2014