Press release
FCO welcomes news Greenpeace activists allowed to leave Russia
The Minister for Europe welcomes news that the six British Nationals, formerly in detention, have received permission to return to the UK.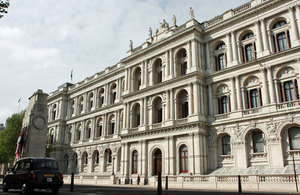 Speaking following the news that British activists and journalists all have permission to leave Russia, the Minister for Europe, David Lidington said:
I am delighted that the British Nationals have been allowed to return to their families and friends. This is a welcome step from the Russian Government. We have provided consular support throughout the case and my Ministerial colleagues and I have repeatedly called for a fair and proportionate conclusion.

I am also pleased that two members of Pussy Riot and a number of the Bolotnaya protestors have been released.
Whilst this move is welcome, issues of concern remain with the Russian judicial system. The British Government continues to call on the Russian authorities to strengthen the rule of law, tackle corruption and promote independence of the judiciary.
Further information
Follow Foreign Office Minister David Lidington on twitter @DLidington
Follow the Foreign Office on twitter @foreignoffice
Follow the Foreign Office on facebook
And on Google+
Published 27 December 2013