Press release
FCO to summon Spanish Ambassador
Foreign Office to summon Spanish Ambassador following serious incursion into British Gibraltar Territorial Waters.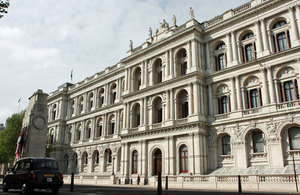 Today Matthew Rycroft, Acting Permanent Under Secretary at the Foreign Office, is summoning the Spanish Ambassador to the UK, H.E. Federico Trillo, in order to underline the British Government's serious concerns regarding an ongoing incursion into British Gibraltar Territorial Waters.
The Minister for Europe, David Lidington, said:
Despite repeated diplomatic protests to Spain in relation to incursions into British Gibraltar Territorial Waters in recent months, a Spanish State research vessel, the RV Ramon Margalef, undertook significant surveying activity in British Gibraltar Territorial Waters on 18 and 19 November for over 20 hours. When challenged by radio, the vessel responded that it was conducting survey work with the permission of the Spanish authorities and in the interests of the European Community. This comes only two weeks after dangerous manoeuvres by a Spanish Guardia Civil vessel in the vicinity of Royal Navy vessels in British waters put lives at risk and resulted in a minor collision.

According to the United Nations Convention on the Law of the Sea, the waters around Gibraltar are indisputably British territorial waters, under United Kingdom sovereignty, in which only the United Kingdom has the right to exercise jurisdiction. Spain is a Party to this Convention and is fully aware of the legal position, yet has, over the past two years, increased the level of unlawful incursions by Spanish State vessels into British territorial waters from around five per month to around 40 per month.

I strongly condemn this provocative incursion and urge the Spanish government to ensure that it is not repeated. We stand ready to do whatever is required to protect Gibraltar's sovereignty, economy and security. We believe that it is in the interests of Spain, Gibraltar and Britain to avoid incidents such as this that damage the prospects for establishing dialogue and cooperation. We remain confident of UK sovereignty over the whole of Gibraltar, including British Gibraltar Territorial Waters, and will respect the wishes of the people of Gibraltar.
Further information
This is the third time the Spanish Ambassador has been publicly summoned in relation to Gibraltar since the current Spanish government took office in December 2011.
Read previous Foreign Office statements on Gibraltar
Follow Foreign Office Minister David Lidington on twitter @DLidington
Follow the Foreign Office on twitter @foreignoffice
Follow the Foreign Office on facebook and Google+
Published 19 November 2013