News story
FCO short-listed for environmental excellence award
The Foreign and Commonwealth Office has been short-listed in the Environment Media Group's 'Awards for Excellence 2014'.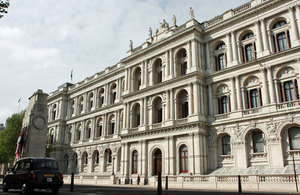 Launched in 2004, the Awards – organised by letsrecycle.com – recognise innovation, dedication and success within the growing waste and recycling industries. The 2014 Awards saw a record number of entries, up 44% from 2013. The Foreign Office entry - short-listed in the category of 'Waste Management Initiative in the Commercial and Public Sector' - highlighted the range of activities undertaken to improve the environmental treatment of waste; leading to the Foreign Office being the first public sector organisation to be certified to the Carbon Trust Waste Standard.
Speaking about the nomination, Sir Simon Fraser, Permanent Under-Secretary to the Foreign Office and Head of the Diplomatic Service, said:
Through our network of posts around the world we promote sustainable growth and action to prevent climate change. But we know we also have a responsibility to minimise our own impact on the environment. So we are delighted to have this recognition of what we have achieved on waste and recycling, especially in what seems to be an extremely competitive year for entries.
2014 winners will be announced on 1 May at the ceremony which takes place from 12 to 5pm at the Landmark Hotel, Marylebone.
Further information
Follow Simon Fraser on twitter @SimonFraserFCO
Follow the Foreign Office on twitter @foreignoffice
Follow the Foreign Office on facebook and Google+
Published 23 April 2014