Press release
FCO reveals consequences of overindulging on holiday
New statistics show peer pressure and cheap drinks can lead to more than a holiday hangover.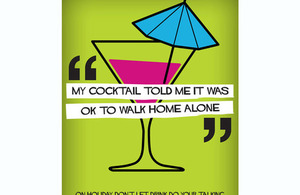 Some young Brits on holiday are putting themselves at risk of serious harm such as hospitalisation, arrest or detention, according to the Foreign and Commonwealth Office (FCO).
New research shows that around half (51%) of 16-24 year olds say they are likely to drink more on holiday than at home. Almost two thirds (62%) attributed this to alcohol being cheaper. Peer pressure is also a major factor, with 40% of those surveyed saying they had felt pressure from friends to drink more than they wanted to.*
Consular staff have already been called on this summer to come to the aid of British nationals who find themselves in trouble after drinking to excess. This is particularly the case in holiday hotspots popular with young Brits.
Gavin Cook, Deputy Head of Consular Assistance at the FCO said:
Going on holiday is a great opportunity to relax and have fun with family and friends, and enjoying a drink can be part of that. We're not telling people to stop drinking but we do want people to be aware of the consequences of drinking to excess – and our research shows almost half of young people understand them already

Activities which may be legal in the UK may not be legal in another country. To avoid a night in a jail cell or even a criminal record, it's important to research local laws and customs, including on alcohol consumption, before you go

Drinking can impair judgement. The effect of being hospitalised or arrested overseas goes far beyond a ruined holiday and can have a devastating impact on family and friends – financially and emotionally. So our message is have fun in the sun, but drink responsibly so you don't put yourself at risk of harm.
The FCO is also encouraging holidaymakers to show respect and consideration to other holidaymakers and local people while on holiday - the findings revealed that excessive alcohol consumption resulted in young British holidaymakers engaging in risky or disrespectful behaviour:
almost a quarter (23%) of young British holidaymakers have gone swimming while drunk on holiday abroad

more than one in ten (11%) young Brits have put themselves in a vulnerable situation with a stranger while drunk on holiday abroad

over a quarter (26%) of 16-24s have done something while drunk on holiday that they were ashamed of
Anne Foster, Director, Marketing and Communications at alcohol education charity Drinkaware, said:
Holidays are the perfect opportunity to relax and have fun, but drinking to excess in the sun can result in more than just a hangover. It's important to stay hydrated in the heat, especially if you are drinking alcohol, as it dehydrates you even further. To ensure you have a holiday to remember, if you drink, make every other drink a soft one and stick to the daily recommended guidelines of 2-3 units a day for women and 3-4 units a day for men.
Top tips to ensure alcohol doesn't ruin your holiday:
Remember tolerance to alcohol may change in the heat and bars abroad often serve larger measures than in the UK. It is worth alternating your drinks with water or soft drinks.
Protect your drink – to avoid the risk of your drink being spiked, keep an eye on it at all times and don't accept drinks from strangers unless you see them being poured at the bar.
Stay close to your friends – if you are drinking with friends look out for each other. If they seem drunk or act out of the ordinary, make sure you get them home safely. Never let a friend go home alone or with someone they don't know.
Drink respectfully – this includes showing respect and consideration to other holidaymakers and local people while on holiday and bear in mind that in some destinations it pays to be aware of specific cultural and local sensitivities.
If you have any enquiries for FCO consular staff before you go or while abroad you can now ask questions via the FCO's new Twitter service @FCOtravel. Questions are answered 9am – 6pm BST, Monday – Friday and FCO staff aim to respond within 30 minutes. British people travelling or living overseas can also email the travel advice team or contact local consular staff at the nearest embassy or high commission.
You can also keep up-to-date with the latest FCO travel advice by signing up to the FCO travel Facebook page and following @FCOtravel on Twitter.
What can the FCO do for people who have problems when travelling abroad?
| The FCO can | The FCO cannot |
| --- | --- |
| Issue you with an emergency travel document | Help you enter a country if you don't have a valid passport or necessary visas |
| Give you a list of local lawyers, interpreters, doctors or funeral directors | Give you legal advice |
| Contact friends and family back home for you if necessary | Get you better treatment in hospital or prison than is given to local people but will raise concerns if treatment falls below internationally recognised standards |
| Provide information about transferring funds | Pay any bills or give you money |
| Visit you in hospital or if you have been arrested | Make travel arrangements for you |
Further information
Interviews or case studies please contact the Know Before You Go team on 0207 478 7840 or fcoteam@grayling.com
*Survey conducted online by Censuswide. Total sample size was 2,479 UK Adults. Fieldwork was conducted between 26.07.13 and 30.07.13. The 16-24 base figure was 552
The FCO's Know Before You Go campaign encourages British nationals to prepare for their foreign travel so they can avoid preventable problems. The campaign targets a number of audiences, from gap year students to package holidaymakers; sports fans to older travellers and people visiting friends and family abroad. The campaign works with around 600 travel industry partners to communicate its messages.
Read the FCO holiday checklist
Published 15 August 2013