News story
FCO recognised for its progress on gender progression
Permanent Under Secretary emphasises importance of diversity and considers further steps the FCO can take to build on today's achievement.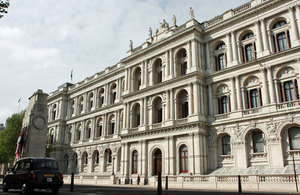 The Foreign and Commonwealth Office has been named as one of the top ten public sector organisations for gender diversity and inclusion by Opportunity Now, the gender campaign from Business in the Community.
Opportunity Now is the UK's most comprehensive benchmarking survey which reports on how organisations are performing on gender equality in the workplace. The reports look across a range of key areas, including career progression, recruitment, and senior representation of women. They also include examples of best practice trends in gender.
Commenting on the recognition, Sir Simon Fraser, Permanent Under Secretary and Head of the Diplomatic Service said:
I'm delighted that the FCO has been recognised as one of the top ten public sector organisations for gender diversity and inclusion. Diversity is an important priority for both me personally, and for the FCO. This is about reaching out beyond our traditional audiences to get to the talent we might not otherwise reach. We have made some good progress; including increasing the number of women in senior roles, developing innovative flexible working practices, and engaging with women across our global network to understand how we can best support them to reach their full potential.

But we still have to more to do. This includes recruiting and supporting staff from a wide range of backgrounds and ensuring that diverse representation goes beyond rhetoric.
Judith Macgregor, Chair FCO Women's Association and High Commissioner to South Africa, stated:
On behalf of the Women's Association, I am delighted the FCO has received this deserved recognition for its work to foster greater diversity and opportunity in our organisation- particularly through more flexible and mobile working. I am sure it will boost further career progression for women in the Diplomatic Service in the future.
Kathryn Nawrockyi, Director of Opportunity Now, said:
Congratulations to the Foreign & Commonwealth Office – being named as one of the top 10 organisations on progression of women is an excellent achievement and they should be very proud. The work they have done highlights how all employers can take steps to improve gender equality in their workforce, and I hope that other organisations will learn from their example to help us achieve a true gender balance.
Further information
Read more about Opportunity Now and the benchmarking exercise.
Follow the PUS on twitter @SimonFraserFCO
Follow the Foreign Office on twitter @foreignoffice
Follow the Foreign Office on facebook and Google+
Published 19 November 2013