Press release
FCO protests to Argentine Government about hydrocarbons legislation
FCO protests to Argentina that its hydrocarbons law does not apply to the Falklands.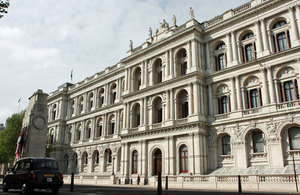 The FCO Director for the Americas, Kate Smith, formally protested today to the Argentine Chargé, Oscar Horacio Galli, about the Argentine Congress's passing of an amendment to their Hydrocarbons Law No 26.659 which seeks to criminalise individuals or companies with a direct or indirect interest in hydrocarbon activities in waters surrounding the Falkland Islands. An FCO spokesperson said:
Argentine domestic law does not apply to the Falkland Islands, so this is a baseless gesture intended to deter legitimate commercial activity. We are confident it will not succeed. It is shameful that Argentina is once again adopting bullying tactics in an attempt to strangle the Falkland Islands economy.

The British Government fully supports the rights of the Falkland Islanders to develop their hydrocarbons sector for their economic benefit. This right is an integral part of their right of self-determination, which is expressly contained in the International Covenant on Civil and Political Rights. All hydrocarbons activities on the continental shelf of the Falkland Islands are regulated by legislation of the Falkland Islands Government, in strict accordance with the United Nations Convention of the Law of the Sea.
Further information
On 27 November the Argentine Congress amended Hydrocarbons Law 26.659 introducing criminal definitions and punishments of up to 15 years in prison and fines equivalent to the value of 1.5 million barrels of oil for those engaging (directly or indirectly through a third party) in any type of hydrocarbon exploration, extraction, transportation and/or storage activities within the Argentine continental shelf without authorization by Argentine authorities. The Falkland Islands Government has already firmly rejected the applicability of this law to its territory and waters.
Follow the Foreign Office on twitter @foreignoffice
Follow the Foreign Office on facebook and Google+
Published 16 December 2013