World news story
FCO Permanent Under Secretary visits Lima
Simon Fraser, Foreign Office Permanent Under Secretary and Head of the British Diplomatic Service met with members of the Peruvian government and visited the headquarters of the Diplomatic Academy.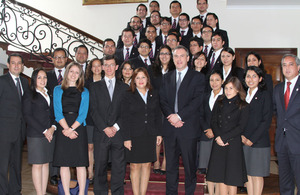 Among the issues discussed with the Peruvian government was the mutual interest to develop bilateral trade taking into account the recent Free Trade Agreement between Peru and the European Union together with the promotion of high-level visits between the two countries (the delegation of inPERU will travel to London this month Minister of Economics Finance, Luis Miguel Castilla and the Mayor of the City of London will visit Lima in July this year). Mr Fraser also discussed cooperation in the fight against drugs, and promoting stronger links in education and technology.
Mr. Fraser also participated in an event at the British Ambassador's residence in Lima to promote, as part of the GREAT campaign, the British-Peruvian relationship in the field of higher education and the advantages of studying in the United Kingdom.
During his visit Mr Fraser also announced an important pilot program to simplify and speed up the visa system to the UK for Peruvian citizens who wish to choose this service. The system will be implemented in July this year and it will substantially decrease the time of processing visas to five working days.
More information:
Simon Fraser leads the network of 270 British diplomatic missions in 160 countries worldwide. During his visit to the Diplomatic Academy, Mr Fraser spoke with students about the objectives and organisation of the British Diplomatic Service.

In the past two years, as part of an increased focus of the British Foreign Office in Latin America, Mr. Fraser has led the increase in staff in the embassies in the region, and has opened new embassies in El Salvador and Paraguay, and a new consulate in Recife (Brazil).
Published 24 May 2013