Press release
FCO Minister shocked by terrorist attack in Volgograd
Minister for Europe condemns terrorist attack on Russian train station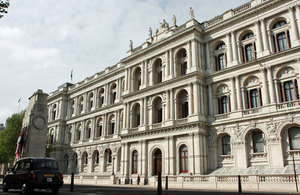 David Lidington, the Minister For Europe, has commented on the terrorist attack on the train station in the Russian city of Volgograd which has killed and injured a number of people.
Minister Lidington said:
I was shocked to learn of the terrorist attack in Volgograd this morning, which I condemn in the strongest possible terms. My sympathies go out to all those affected by this appalling act, and particularly to those who have lost loved ones.
Further information
Follow Foreign Office Minister David Lidington on twitter @DLidington
Follow the Foreign Office on twitter @foreignoffice
Follow the Foreign Office on facebook and Google+
Published 29 December 2013