World news story
FCO Minister meets Oxfam campaigners to discuss Syria
Foreign Office Minister for the Middle East Hugh Robertson today met with campaigners from Oxfam to discuss shared concerns about the conflict in Syria.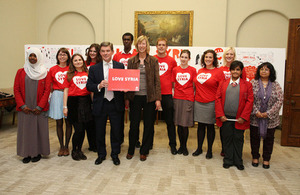 The Oxfam campaigners presented a petition urging the UK to use its influence to help deliver peace talks for Syria as part of their #LoveSyria campaign.
The UK shares Oxfam's concerns and is urgently pushing for the international Geneva II peace conference to take place in mid-November.
Foreign Office Minister for the Middle East and North Africa, Hugh Robertson said:
I welcome Oxfam's initiative which shows just how much support there is for those suffering in Syria. That is why the UK is leading international efforts on the humanitarian response by pledging an extra £100m to help get essentials such as food, water and medicine to Syrian people in dire need.
The UK's total funding for Syria and the region is now half a billion pounds, the largest total sum the UK has ever committed to a single crisis. At the same time we are also working hard towards finding a political solution which will bring an end to this brutal and bloody conflict.
Further information
Read the latest updates on UK aid to Syria
Follow the Foreign Secretary on twitter @WilliamJHague
Follow Minister Robertson on twitter @HughRobertsonMP
Follow the Foreign Office on twitter @foreignoffice
Follow the Foreign Office on facebook and Google+
Published 9 October 2013