FCO Minister Counts Down to the Paralympic Games
Today is 200 days to go until the London 2012 Paralympic Games. FCO Minister David Lidington has marked the milestone by visiting Stoke Mandeville, the birthplace of the Paralympic movement. Watch his video from the visit.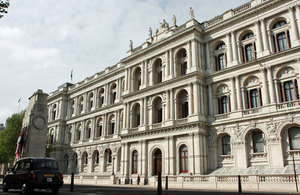 The homecoming of the Paralympic Games this summer will be a special moment for the United Kingdom. The Paralympic movement began back in 1948 in the village of Stoke Mandeville. FCO Minister for Europe David Lidington visited the village in his constituency, to mark 200 days to go until the start of the London 2012 Paralympic Games. Watch his video from the visit below.
Following his revolutionary work using sport to treat World War II veterans with spinal injuries, neurologist Dr Ludwig Guttman set up a competition in Stoke Mandeville for his patients to compete with other hospitals. The first competition coincided with the 1948 London Olympic Games. Over the next decade, Dr Guttman's Stoke Mandeville competition grew until 1960 when the first official Paralympic Games were held in Rome.
British embassies and high commissions around the world are also marking the countdown to the Paralympic Games. In Cape Town, the British High Commissioner welcomed South African Olympic and Paralympic hopefuls, the Team GB Hockey Team and members of the South African Sports Confederation and Olympic Committee, media and business community aboard HMS Montrose. The guests enjoyed entertainment by the Cape Welsh Choir and a traditional Sunset Ceremony.
Meanwhile in Hungary, representatives from the British embassy and people with visual impairments are taking part in a 'Spinning' cycling challenge organised in conjunction with the Suhanj Foundation. In Russia, the next generation of Paralympians at the Russian State University of Physical Education, Sport, Youth and Tourism are competing to win gold in the British Embassy Paralympics Quiz.
Published 11 February 2012