FCO Minister condemns violence and calls for peaceful progress in Bahrain
Foreign Office Minister Alistair Burt spoke following the recent violence in Bahrain, and the declaration of non-violence by some opposition parties.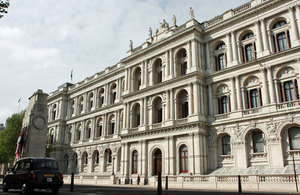 The Minister for the Middle East and North Africa said:
"This week I spoke to the Bahraini Foreign Minister Sheikh Khalid bin Ahmed Al Khalifa ahead of the first anniversary of the Bahrain Independent Commission of Inquiry (BICI) report into the uprising in 2011.
We discussed the recent increase in violent attacks, which are deeply worrying and only serve to undermine prospects for reconciliation and long-term stability in Bahrain. The UK condemns any group that engages in this type of violent action.
We welcome the constructive steps taken last week by Al-Wefaq and five other opposition political societies to condemn violence in a Declaration of Principles of Non-violence.
We continue to encourage the Government to lift the temporary ban on protests, and urge all sides to pursue their objectives through peaceful action and meaningful dialogue."
Published 16 November 2012