World news story
FCO marks Human Rights Day on 10th December
UK marks Human Rights Day on 10th December under the theme "protecting civil society".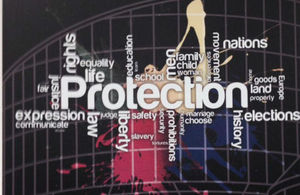 On 10 December each year the international community celebrates Human Rights Day, to mark promulgation of the Universal Declaration. This year, the UK's theme is "protecting civil society space". It is highly topical, given the pressure many NGOs are under in many parts of the world. 10 December also marks the culmination of the UN's 16 Days of Activism against Gender Violence which the British High Commission has supported in Tanzania.
To mark the day, Baroness Anelay is hosting a reception in London, featuring a panel discussion on how best to protect "civil society space" where it is threatened. The FCO's Youth Inspiration Group is running a photo competition (via social media) on "why civil society is important to human rights", and a. number of British ministers are also writing blogs and discussing the issue through social media.
On the occasion of the International Human Rights Day on 10 December, the Commission for Human Rights and Good Governance (CHRAGG), with the support of the EU in Tanzania, held a workshop on the status of implementation of the Universal Periodic Review (UPR) recommendations and preparation for the forthcoming UPR report. A follow-up workshop is planned for 16 December bringing together all the key stakeholders to assess progress to date. The workshop will draw 45 participants from ministries and local government authorities, CSOs, and academia.
Tanzania had its last Universal Periodic Review (UPR) in October 2011. Both the Tanzanian government and CHRAGG submitted their state reports. Following the review, a total of 153 recommendations were issued, of which the government has accepted 107.
In the opening session of the 10th December workshop in Dar es Salaam, details of Tanzania's National Human Rights Action Plan 2013-17 were presented as a starting point for discussion on progress and preparation of the next UPR report. The latter is expected to be submitted in September 2015 and reviewed in early 2016. The event was well attended by key Tanzanian stakeholders, the UN and EU Heads of Mission, including the British High Commissioner Ms Dianna Melrose. She commented that:
"Tanzania has a vibrant civil society that is actively contributing to the current Universal Periodic Review. With a constitutional referendum in April and parliamentary and presidential elections in October 2015, this year's UK focus on protecting civil society space is particularly relevant in Tanzania."
The British High Commission, Dar es Salaam joins FCO in engaging Tanzanian non-governmental organizations (NGOs) in a social media campaign discussing and sharing opinions on the "civil society space" in Tanzania. You can join the debate through #CivilSocietySpace in Twitter.
Published 10 December 2014