World news story
FCO Cyber Security Capacity Building Programme
Enhance cyber security internationally whilst reducing the cyber threat to the UK.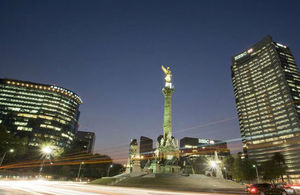 FCO Cyber Security Capacity Building Programme
Guidelines for Bidding
Programme purpose
Deliver a coherent portfolio of transformational projects, building on previous efforts, to enhance cyber security internationally whilst reducing the cyber threat to the UK.
Context
The UK's recent launch of the new National Cyber Security Strategy (NCSS) sets out planned activity to defend our cyberspace; deter our adversaries; develop our capabilities; and work internationally to safeguard the long term future of a free, open, peaceful and secure cyberspace that underpins our economic prosperity and national security. Public and private sector, working together with civil society, can shape the development of cyberspace governance, regulation, skills and standards. Through this collaborative approach we can ensure the Internet and wider cyberspace delivers economic and social and security benefits for the UK while managing the risks.
Themes
We are looking for transformational cyber security capacity building projects, where there are clear UK interests, that make a measurable impact on these objectives:
• develop the cyber security capabilities of our international partners;
• strengthen the cyber security of overseas infrastructure or assets that are critical to the UK;
• help the UK collaborate internationally to detect, understand, investigate and disrupt cybercrime, pursuing and prosecuting offenders;
• help UK cyber security companies access international markets or help UK universities and research centers partner internationally to develop cutting-edge analysis and expertise;
• promote responsible state behaviour in cyberspace; or
• strengthen international consensus on the benefits of a free, open, peaceful and secure cyberspace.
Previous projects
In previous years project issues have included, but have not been limited to:
• cyber security Capacity Reviews;
• helping countries draft National Cyber Security Strategies and implementation plans;
• cyber security training for government officials, civil society and private sector;
• developing and enhancing robust cyber crime legislation;
• strengthening cyber skills and awareness in judicial systems and law enforcement;
• improving law enforcement interoperability in cybercrime cases;
• strengthening Computer Security Incident Response Teams (CSIRTs);
• improving the cyber security for critical infrastructure, e.g. energy routes, transport hubs, supply chains, finance and communication centres;
• promoting the adoption of robust cyber security standards;
• events and research that promote the benefits of a free, open, peaceful and secure cyberspace;
• public awareness campaigns;
• strengthening the application of international law and norms of behaviour; and
• developing a common understanding of responsible state behaviour in cyberspace.
Advice for proposals
Learning lessons from previous years, we are looking for projects that:
• are tied to the HMG country strategies;
• have strong host-government support;
• take a holistic approach that considers host government digital and cyber policies, national strategies, regulation, private sector interests, civil society, technical capability, development context and human rights;
• take account of what other donors are doing or planning;
• have co-funding from another country or organisation; and
• build on previous capacity building projects or partnerships.
We will consider multi-year projects on a case-by-case basis.
We encourage jointly funded projects with other governments and organisations.
We welcome proposals that bring together a number of sub-projects or objectives to form a more ambitious, larger scale intervention addressing more than one dimension of cyber security in a country.
Projects are more likely to be successful where they have a strong evidence base and evaluation process. Where possible they should refer to national Cyber Security Strategies and Capacity Reviews, such as those supported by the Oxford Global Cyber Security Capacity Centre.
Who can bid?
Project proposals are welcomed from any organisation with: the proven track record to deliver on time and budget; effective networks, especially with host governments, and; expertise to deliver transformational change.
Criteria for assessing project proposals
The Programme Board will assess projects against the following criteria:
• Design clarity, coherence and clear benefit to the UK. Projects should demonstrate sustainability and scalability;
• The implementer's track-record, networks and expertise. Where possible, projects should build on wider capacity building activities and seek co-funding;
• Strong host government(s) support and engagement. Evidence of wider stakeholder support and engagement is desirable. We strongly support jointly funded projects;
• Robust risk assessment, including human rights, and evidence of a due diligence mechanism;
• Clear, detailed budget aligned with activities providing clear value for money. Strong proposals will spread the cost of the project throughout the year(s), avoiding where possible spend in the final quarter.
• Robust and transparent monitoring and evaluation, including clear baselines and opportunities for beneficiary input.
Guidelines for submitting a project proposal
• Proposals must be submitted on the standard FCO project concept and project proposal forms. These should be submitted in full and in accordance with the guidance provided. Incomplete proposal forms will not be reviewed by the Programme Board.
• Projects should be budgeted in Pounds Sterling and demonstrate clear value for money. Budgets should give a detailed breakdown of cost per activity per month. For example, when budgeting for travel, details should be provided to show cost per person, per flight, including departure and destination, class of travel and date window. Travel and accommodation costs should be in line with FCO guidance.
Terms of contracts
Agreements will be subject to FCO standard contract terms:
• The UK financial year runs from 1 April 2017 – 31 March 2018.
• Payment will be made quarterly in arrears for quarters 1-3, and monthly in arrears for the fourth quarter.
• Project completion reports should be submitted to the FCO within 3 months of completion of activities.
Timings
Concept proposals should be submitted to the Programme team, British Embassy in Mexico City ukinmexico.ccep@fco.gov.uk as follows:
28 November – Deadline for submitting concept proposals.
19 December – Applicants informed of the programme team's decision as to concept proposals that should be worked up into full bids.
6 January – Deadline for full bids.
30 January – Programme Board held. Decisions on full bids made.
8 February – Decisions communicated.
20 February – Drawing up and signing of contracts.
1 April – Projects start.
Documents for Downloading
Cyber Security Capacity Concept Bid –
Published 16 November 2016