World news story
FCO answers questions about Iran's nuclear programme
FCO spokesperson answers questions on nuclear negotiations with Iran; proportionate sanctions relief on table if key concerns addressed.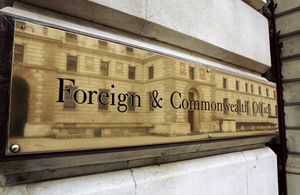 Q: The approach of 5+1 in the negotiations are weaker and becoming more defensive as the talks go on. Many experts are uncertain about the integration between the 5+1. What is the cause of this disagreement and what is the 5+1 members' approach for solving it?
A: The P5+1 is unified in its desire to find a peaceful, negotiated solution to the Iranian nuclear issue. The Almaty confidence building proposal has been agreed unanimously among the P5+1 – there is no division. Iran's current position falls far short of what is needed.
Q: Is there a prospect of balancing the views of both sides of the talks (Iran and 5+1) for coming to a primary agreement?
A: Our reasonable, balanced and credible proposal to Iran aims to do exactly this. It would establish the confidence to move on to a comprehensive settlement of the nuclear issue that would benefit all sides. If Iran takes firm steps to address the key proliferation concerns of the international community, the P5+1 is prepared in return to take balanced and reciprocal steps including on sanctions relief.
Q: Can the unilateral sanctions applied by the US congress have an effect on Iran's negotiation team?
A: Given the international community's concerns about the Iranian nuclear programme, there are a range of international sanctions packages in place on Iran. This includes not only US sanctions but also those of the UN, EU and a number of individual countries. Iran is already feeling the effects of unprecedented sanctions on its economy. It should consider carefully whether it wants to continue on its current course and face increasing pressure and isolation from the international community, or engage in meaningful negotiations with the prospect of proportionate sanctions relief.
Q: How possible is military action towards Iran and what is its likelihood? How realistic is it to expect Israel to attack Iran considering its current situation?
A: We remain committed to pursuing a peaceful, negotiated solution to the nuclear issue. But Iran, too, has to show that it is serious about making progress in the talks if a diplomatic solution is to be reached. None of the other alternatives are good.
Q: Some of the European sanctions towards Iran have been cancelled. Don't you think this proves some aspects of these sanctions have been illegal?
A: This is not true. Asset freezes against all entities designated under the EU Iran sanctions regime remain in place. Specific Iranian entities have made appeals to the EU General Court but these cases are ongoing. The UK and its EU partners continue to believe that robust measures must be taken against entities and individuals providing support to Iran's nuclear and ballistic missiles programmes.
Q: What do the European countries specially UK thinks about the direct talks between Iran and US? do they find it profitable or not?
A: The P5+1 is mandated to pursue these negotiations by the UN Security Council and ultimately any deal would have to be agreed by all the members of the P5+1. The US has an important role to play: its acceptance of any agreement will be essential. We support efforts which would help lead to a peaceful, agreed solution to the nuclear issue with Iran.
Q: Some western oil institutes believe that Iran's oil sanctions can only be effective until, year 2014. would the western countries be able to replace this pressure? if so what tools they can use?
A: Oil sanctions are having a significant impact, and this will increase as the effect of sanctions accumulates. As Prime Minister David Cameron said on 15 October 2012, until Iran changes course, it will face ever tougher sanctions. The E3+3 has made clear it is open to proportionate sanctions relief, but Iran needs to take steps first to address the international community's serious concerns.
Published 1 May 2013