Father cycles around UK in memory of soldier son
The father of a soldier who was killed in Afghanistan began the final leg of a 2,460-mile (3,960km) charity cycle ride around the UK this week.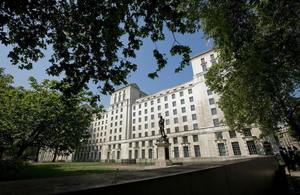 Sandy Elliott, aged 48, from Aberdeen, decided to complete the huge undertaking in memory of his son Private Kevin Elliott, from 3rd Battalion The Royal Regiment of Scotland, who was killed in Helmand province in August 2009.
The Cycling for Heroes tour began on 1 May 2012 at Gordon Barracks in Aberdeen, where it was due to end today. In between, Sandy has visited over 50 military bases across the country, in places as far afield as Anglesey, Devon, Essex and Yorkshire.
The last leg began this week at RAF Lossiemouth in North East Scotland.
During the trip Sandy has already raised £4,000 for the Soldiers, Sailors, Airmen and Families Association (SSAFA); he also wanted to raise awareness of the SSAFA Bereaved Families Support Group which has been a great help to him since the death of his son. He said:
Everyone copes in different ways when something like this happens and it is such a help to talk to people who have already been through the same thing.
It has been quite a journey for Sandy, who hadn't been on a bike for 20 years before he set off from Aberdeen on 1 May this year, and it has taken him right around the UK visiting a total of 52 military bases in 31 days. His most recent visit was to RAF Lossiemouth.
He has had six punctures, battled extreme heat and rain, and had his tent attacked by a herd of cows, but his enduring memory will be of the amazing people he has met along the way. He added:
The amount of support I have received has been astounding. Not only from SSAFA and the military, but also from complete strangers who have contacted me through my webpage and offered me all sorts of help. I have even had complete strangers offer me a bed for the night, which is, I have to say, a lot more comfortable than a soaking-wet tent!
In another charity cycling adventure Royal Navy Air Station Culdrose-based aviator Lieutenant Edwin Cooper has this week completed a 1,000-mile (1,609km) cycling challenge, raising over £2,000 for Help for Heroes in the process.
Cycling from Falmouth all the way to Stromness Academy in the Orkney Islands, his childhood school, Lieutenant Cooper completed this feat in just seven days. He said:
From traversing the hilly counties of Cornwall and Devon, to dodging traffic in the central belt cities, to the tranquillity of cycling solo through the Scottish Highlands with herds of deer and sea eagles for company, the experience of cycling from Falmouth to Orkney unsupported, a 1,000 miles in seven days, for Help for Heroes, is a challenge I will never forget.
Although Lieutenant Cooper got to enjoy a couple of days' rest and relaxation on the Orkney Islands, he did not get to put his feet up for long as soon after he was deployed as Flight Commander on board HMS St Albans.
For more information about these charity cycle rides and to donate money please visit the relevant websites at Related Links.
Published 31 May 2012