World news story
Faster visa processing in Riyadh, Jeddah and Al Khobar
Visa applications are currently being processed more quickly than usual at the UK's visa application centres in Saudi Arabia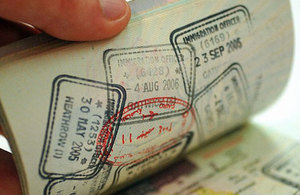 UK Visa applicants in Saudi Arabia are currently receiving their UK visit visas even more quickly than normal, with processing times for priority visa applications taking less than three days and standard applications between three and five days. Demand for UK visas has increased ahead of the upcoming school holidays, and the quicker turnaround times have already been welcomed by applicants.
The UK aims to process visit visas within three weeks, but the target is routinely exceeded with average processing times last year of just over 5 days. Of those who apply, 99% are successful.
If you are planning to travel to the UK, you can find information about how to apply for a visa on the UK Visas & Immigration . The UK is also providing daily visa tips for visa applicants, which you can follow on the British Embassy's Facebook page and Twitter feed - @UKinSaudiArabia .
Published 18 February 2015