Press release
Faster justice as unneccessary committal hearings are abolished
Serious criminals will face justice as soon as possible with the abolition of committal hearings Justice Minister Damian Green said today.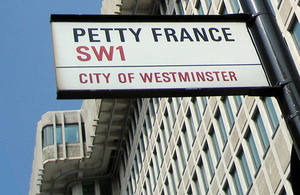 Committal hearings were abolished in local justice areas serving 33 Crown Court locations in November last year and have now been extended to the remaining 60 Crown Court locations across the country. This will mean around 60,000 fewer hearings will be needed each year.
Many cases will now be sent straight to the Crown Court as soon as it is clear the matter is serious enough, rather than having to await a committal hearing which can slow the justice process down significantly.
Justice Minister Damian Green said:
'Abolishing committal hearings is another one of the reforms we are taking forward to make justice respond more quickly and effectively for victims, witnesses and taxpayers.'
The changes are the latest stage of a series of moves to make the justice system swifter. These have also included introducing dedicated traffic courts to deal with low level motoring offences and increasing the use of digital technology between courts, prisons and police stations, saving time and money for the whole justice system.
Scrapping the hearings will help the courts to run more efficiently and ensure a better service for victims, witnesses and local communities.
Notes to editors:
Committal hearings are a procedural part of the court process, used to progress certain categories of cases from the magistrates' courts, where lower level crimes are dealt with, to the Crown Court, which handles the most serious offences.
They were abolished in 2001 for 'indictable only' offences, which have to be heard at a Crown Court because of their seriousness. The current changes abolish committal hearings for 'either-way' offences, which can be dealt with either at the magistrates' courts or the Crown Court, depending on the seriousness of the individual case.
Cases will now be sent to the Crown Court as soon as it is clear the matter is serious enough, without the need for a separate committal hearing.
The Crown Court locations where committal hearings for either-way cases will be abolished from 28 May 2013 are:

Maidstone
Chichester
Lewes
Canterbury
Guildford
St Albans
Basildon (including Southend)
Cambridge
Peterborough
Luton
Ipswich (including Bury St Edmunds)
Norwich (including Kings Lynn)
Chelmsford
Portsmouth
Newport (IOW)
Bournemouth
Dorchester
Plymouth
Exeter (including Barnstaple)
Stoke on Trent
Shrewsbury
Stafford
Worcester (including Hereford)
Leicester
Northampton
Lincoln
Leeds
Bradford
York
Newcastle
Durham
Cardiff
Merthyr Tydfil
Newport, South Wales
Mold (including Dolgellau, Welshpool, and Caernarfon)
Kingston upon Hull
Grimsby
Teesside
Truro
Sheffield (including Doncaster)
Inner London
Wood Green
Blackfriars
Croydon
Central Criminal Court
Harrow
Isleworth
Kingston upon Thames
Snaresbrook
Southwark
Woolwich

These are in addition to the 33 Crown Court locations where committal hearings had been abolished for, by 5 November 2012.
The abolition of committal hearings for either-way offences means that the Crown Court media reporting restrictions which would previously have applied at that stage will now apply from the 'sending hearing' at the magistrates' court, where the case is sent to the Crown Court.
Information about how the justice system works, how judges reach their sentencing decisions and how courts in each area are performing is available on the Sentencing Council website.
For more information, please call the Ministry of Justice press office on 020 3334 3536. Follow us on twitter @MoJPress.
Published 28 May 2013