Fast Start helps countries cope with climate change
A new series of Fast Start projects will help those hit first and hit hardest by the impacts of climate change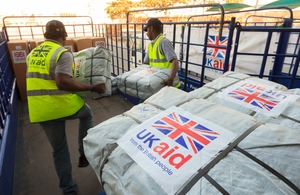 The UK today unveiled a new series of Fast Start projects - part of a global scheme designed to help poor and vulnerable countries adapt to climate change.
The world's poorest people will be hit first and hit hardest by climate change. Floods and famines are already taking their toll but it is poor countries who are often the least equipped to deal with these impacts.
Video: The Fast Start projects are part of the UK's International Climate Fund. Watch the film to see examples of the programmes in action.
The latest Fast Start projects will help in a number of areas, including:
Helping up to 250,000 small scale farmers - two fifths of whom will be women - to use climate resilient practices that limit the effect of low rainfall
Connecting 7,200 rural households in southern Africa to the grid
Saving 47 million tonnes of carbon dioxide equivalent
The announcement comes as world leaders gather in Durban, South Africa at the yearly UN summit on climate change. It puts the UK well on track to meet its aid commitments by the end of 2012 by delivering £1bn of much-needed finance.
Speaking at the summit, Energy and Climate Change Secretary Chris Huhne said:
We promised we'd be the greenest government ever both at home and abroad and passing the £1bn milestone shows the UK's commitment to helping developing countries tackle and cope with the effects of global warming.

Africa is one of the areas which will feel the impacts of climate change first which is why we're helping its people adapt to a warmer world and not become reliant on dirty fossil fuels.

Climate change is the greatest challenge of the 21st century so we have a moral responsibility to help the poorest countries respond. This not only benefits the most vulnerable but also helps all of us move towards a safer and cleaner future.
Developed countries pledged to provide nearly $30 billion of Fast Start Finance between 2010-12 at the Copenhagen climate talks in 2009, with the UK contributing £1.5bn. The UK has allocated over two thirds of its Fast Start Finance.
Fast Start finance for 2011 and 2012 is funded from the UK government's £2.9bn International Climate Fund (ICF), which aims to help developing countries tackle climate change and adapt to the effects of global warming.
Published 6 December 2011