World news story
Fashion and retail sector workshop held in Kolkata
British Deputy High Commission Kolkata hosted an investor workshop for fashion and retail sectors in Kolkata, Thursday 15 September 2016.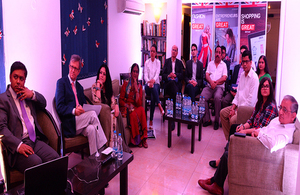 The workshop was organised by the Department of International Trade (DIT) to bring the excitement of London Fashion Week (LFW) to Kolkata. The aim of the workshop was to discuss investment opportunities for inward investors in the UK retail sector.
The workshop was attended by leading celebrity designers from Kolkata. The designers interacted with Fred Bassnett, Retail Expert, DIT over Skype to discover the opportunities to develop their businesses in Britain. This all was happening the day before the LFW 2016 was to begun in UK and while Prime Minister Theresa May was hosting a reception for fashion sector experts and leading British designers at No.10 Downing Street.
The workshop discussed ways to provide an opportunity to Indian designers on how to display at the next LFW. They applauded Khasi designer, Rupert W Lynrah, from the north-east Indian state of Meghalaya who was exhibiting ethnic regional specialities at LFW 2016. Lynrah's work is a great example of how one can use indigenous designs and traditions to go global.
The participants talked about Brexit and its impact on UK – India business ties. They were assured that the UK was open for business more than ever before. The workshop enabled DIT to reach out to new contacts and engage with key stakeholders like the Council for Leather Exports. Fred also talked about acceptance of Indian designs in mainstream British clothing outlets.
At the end of the workshop British Deputy High Commissioner Kolkata Bruce Bucknell said that he was excited to see such a high level of engagement from the audience.
Further information:
See the event in pictures here
For media enquiries, please email Sandip.Chaudhuri
Follow us on Twitter, Facebook, Flickr, Storify, Eventbrite, Blogs, Foursquare, Youtube, Instagram, Vine, Snapchat @UKinIndia, Periscope @UKinIndia
Document information
Published: 7 October 2016