World news story
Farewell to Seychelles two new Chevening scholars
The British High Commissioner has bid farewell to Seychelles' two Chevening scholars for 2014-2015, Kahlyaan Karunakaran and Ralph Vel.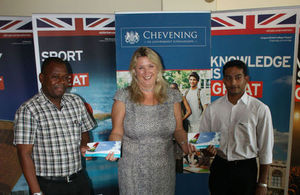 Kahlyaan will study for an LLM in Cyberlaw: Information Technology, Law and Society, at the University of Leeds. This is pioneering for Seychelles; he will be the first person to follow such a course and is already considering legislative changes required to update Seychelles' law to accommodate changes brought about by the internet. He is currently employed as a State Council in the Attorney General's Office.
Ralph is employed as the Principal Energy Legislation Officer at the Seychelles Energy Commission and will study for an MSc in Electronic and Electrical Engineering at the University of Strathclyde. He will use the MSc to help develop the fledgling Seychelles Energy Commission; to inform decision makers and drive policy; to balance Seychelles' growing electricity demand with depleting fossil fuel reserves; and to lead the introduction of appropriate renewable technologies.
"Ralph and Kahlyaan were both excellent candidates for the Chevening Scholarship programme. I wish them well for their tremendously exciting studies and look forward to the transformative work they will carry out upon their return," said British High Commissioner Lindsay Skoll.
The High Commissioner also reminded the journalists gathered for the farewell that the Chevening application process for 2015-2016 is now open, and encouraged applications.
Chevening Scholarships are a prestigious global scheme, targeted at future leaders, influencers and decision makers, allowing them to study at world-class universities across the UK. Fulfilling their leadership potential, Chevening alumni have made key contributions to Seychelles' development. Chevening scholars have returned to Seychelles to become Ministers, ambassadors and managing directors.
The application window is open from until November 2015. Visit https://www.chevening.org/apply to learn more about the application process and take the first steps towards studying your Master's degree in the UK.
Published 19 September 2014