World news story
Farewell to Peruvian Chevening scholars
This year the offering of Chevening scholarships for Peruvians tripled: 15 new scholars will study in the UK.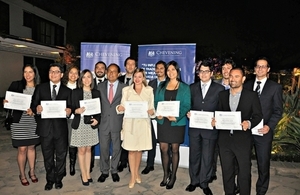 On Thursday 27 August, the traditional farewell cocktail and delivery of Chevening diplomas to new scholars took place at HMA Anwar Choudhury's residence. The Peruvian Chevening scholars will undertake graduate studies in British institutions such as The London School of Economics, University College London, The University of Manchester or The University of Edinburg, among others.
A special motivation to celebrate is the fact that the amount of Chevening scholarships for Peruvians tripled. In total, fifteen Peruvians will soon study in Britain.
"I'm sure that group of such brilliant Peruvians will not only make remarkable professionals," HMA Choudhury said, "but they will also be leaders leaving a lasting mark in their country and the world." Attendees included fourteen of the fifteen scholars, their families and partners, friends, Chevening alumni and educational authorities from British Council, the Peruvian Program of Scholarships (PRONABEC) and the Ministry of the Education.
It's worth mentioning that Peruvian Chevening alumni include national personalities and influencers such as Beatriz Merino, Roque Benavides, Marcial Rubio, among others.
Photo gallery: Click here.
Published 1 September 2015