World news story
Farewell Reception for Uruguayan Chevening – ANII Scholars
On 20th August the Ambassador offered a reception for the four Chevening scholars who will soon depart to study Masters degrees in the UK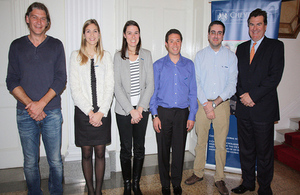 The aim of the reception was to honour Florencia Fernández, Valentina Vincent, Aníbal Galán and Andrés Rodríguez, who will pursue postgraduate studies in some of the best British Universities.
The reception was attended by authorities of the National Agency for Research and Innovation (ANII) and the Association of Graduates of British Universities (GBUA), as well as scholar's family members.
During the event, the British Ambassador, Ben Lyster-Binns, and the President of ANII, Santiago Dogliotti, signed the agreement Chevening – ANII for 2015-16, which significantly increases the number of scholarships to be awarded next year, thanks to the commitment of both the British government and ANII to increase funds for the programme.
Applications for the Chevening – ANII Scholarships for the next academic year are now open and will be accepted until 15th November. Chevening Scholarships not only provide financial support to study a Masters degree at leading universities in the UK, but also the opportunity to become part of an influential and highly regarded global network.
For more information on how to apply, visit Chevening
Published 26 August 2014