Press release
Family reunion for lost toy after Christmas Eve rescue thanks to Traffic Officer Tracey
A cherished toy cat is happily back in the arms of its three year old owner after a chance rescue by a Highways England Traffic Officer.
This news article was withdrawn on
This document is no longer current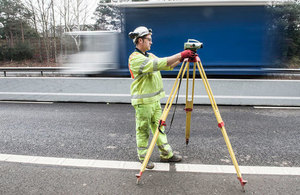 'Ning-Nang' was spotted on the side of the M4 by Berkshire-based Traffic Officer Tracey French on Christmas Eve. Tracey spotted the bedraggled toy when she had just finished clearing a roof box which had fallen from a vehicle onto the M4 near Membury services.
She scooped him up and took him safely back to the traffic officer base at Chieveley, near junction 10 of the M4 and set about cleaning him up and reuniting him with his owner, three year old Josiah.
Tracey said:
I was on my way back to base after clearing up the fallen roof box when I spotted a large metal hook and bracket on the hard shoulder. I thought I had better collect that before if ends up in the carriageway. Close by there was a small grey heap. I safely checked in case it was an injured animal, but low and behold there was a very wet, flat, dirty and sad looking Ning-Nang!

At J15 safely parked I called the outstation and a fellow Traffic Officer told me a little boy and his mum Esther had in fact registered toy cat 'Ning-Nang' missing.
Tracey explained she rang Josiah's mum Esther Whittlesea Reed to tell her the good news. Shouts, screams and tears were heard down the phone at this exciting news.
It was arranged by all that Ning-Nang would spend Christmas with the friendly Traffic Officers at the Chieveley outstation. Once he had been bathed and blow dried a photo diary of Ning Nang's festive antics with staff were sent to keep Josiah informed until he was able to visit on Monday 28 December to collect his lost toy in person.
Tracey explained:
We made sure Ning-Nang had some fun and photographed her playing in the Outstation Christmas Tree, helping us listening to Airwaves, updating us on traffic flow and at the end of shift inspecting the Traffic Officers Vehicles for cleanliness, we passed, good job Chieveley!
When Josiah and mum Esther arrived at Highways England Road Traffic Control Centre they were treated to a guided tour around the Traffic Officer Vehicles and thanked the team in person for their special toy rescue!
Esther said:
We thought that having lost Ning-Nang in the early hours of Christmas Eve after our car broke down on the M4 we would never see her again, Josiah was distraught.

A huge thank you to 'Saint Tracey of the Highways' who found Josiah's Toy Himalayan Mountain Cat Ning-Nang. Josiah was devastated at Ning-Nang's loss and cried himself to sleep until the wonderful reunion with Ning-Nang on Monday. Tracey's phone call saying she'd been found made our Christmas and left us all (adults included) in tears of joy. Josiah was overwhelmingly happy at his most beloved Ning-Nang's safe return and has held her close ever since!

Thank you to the kindness and efforts of all the staff involved at Highways England. You have been a blessing to our family this Christmas time.
Tracey was even presented with a hand made rosette by Josiah with the title 'Saint Tracey of the Highways' on it.
Tracey added:
It really brought a tear to my eye and I am honoured but will not be using the title 'Saint' at work.
General enquiries
Members of the public should contact the Highways England customer contact centre on 0300 123 5000.
Media enquiries
Journalists should contact the Highways England press office on 0844 693 1448 and use the menu to speak to the most appropriate press officer.
Published 5 January 2016