Family mediation - an alternative to courts
During Christmas and New Year many families will have been together - for some this year's holiday season will have been a difficult time.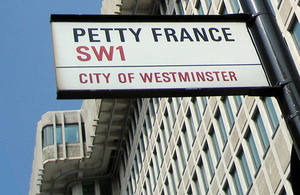 Some people may have been experiencing breakdown in relationships or disputing with a partner the arrangements they have to see their children.
The first working day of the year is when lawyers, marriage counsellors and family mediators report the most enquiries from people intending to separate – which has sometimes led to it being coined 'Divorce Day' by the media.
We are looking at how we can best support people going through separation and divorce and to see whether there are any ways we can improve the system we already have. We think mediation has an important role to play in resolving family disputes. Too often people see court as their first or only option for resolving disputes. We believe it should be their last resort – our court system is adversarial and can encourage confrontation and stress.
 
Mediation is usually quicker, cheaper, less stressful and provides better outcomes than contested court proceedings and may mean people can reduce both the financial and emotional costs of family breakdown.  
Mediation is also an important way of putting power back into the hands of individuals and families facing problems – giving people a chance to have a better sense of control over their lives and sort out their own problems without having to put them in the hands of the courts. It is a voluntary and confidential process enabling people to explain their concerns and needs to each other in the presence of a qualified mediator, giving them the opportunity to communicate directly with each other, rather than via solicitors or across a courtroom. It is then they, rather than a judge, who decide a mutually acceptable outcome. There may well be serious and well founded areas of disagreement but it's possible that a trained mediator can provide effective support. 
Mediation will not always be right for everyone - in cases of domestic violence, child abduction or forced marriage it is right and proper that the courts should be involved and in such cases we will give people the support they need to get to court.  
More separating couples are expected to try mediation in 2011 than in previous years. Official figures for legal aid funded mediations have risen from 400 per year in 1997 to almost 14,500 in 2009. Out of these 14,500 publicly funded cases more than two-thirds were successful – which is why we want it to be used more widely.
Mediation can also cost a quarter of the price and take a quarter of the time, compared to going to court. Although all cases are different, the average cost of resolving property or financial disputes caused by separation is approximately £1,000 through mediation, or £4,000 through the courts. The average time it takes to resolve a case using mediation is 110 days compared to 435 days for non-mediated cases.
Justice Minister Jonathan Djanogly said:
'Mediation can be quicker, cheaper and provide better outcomes than going to court. We are now actively looking at ways we can make sure everyone who wants to issue family proceedings is aware of mediation and has the opportunity to find out about it and consider it as a way to resolve their disputes. Early intervention through information and guidance will help the public to understand the options available to them.'
 
For more information on mediation and how someone can contact a mediator see the family mediation section of the Directgov website.
Published 4 January 2011