World news story
Famelab South Africa - Stevie Biffen is off to the UK!
This was published under the 2010 to 2015 Conservative and Liberal Democrat coalition government
Famelab seeks out and nurtures science communication talent that encourages engagement between scientists and society.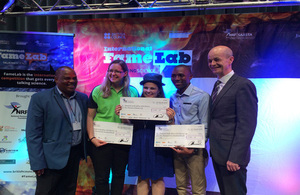 Dubbed as the "pop idols for scientists", Famelab is a British Council initiative, that seeks out and nurtures science communication talent that encourages engagement between scientists and society. Sixteen young scientists from around South Africa were selected as the top speakers in a month long series of regional heats held around the country. The heats took place at diverse venues including science centres in Cape Town and Limpopo, universities including UNISA in Pretoria and the University of KwaZulu Natal in Pietermaritzburg and science organisations like the South African National Space Agency (SANSA), the Centre for Scientific and Industrial Research (CSIR).
The British High Commission, through the UK Science and Innovation Network (SIN), supported the finals at Scifest Africa in Grahamstown in March. The judges, Dr Sandile Malinga, CEO of the South African National Space Agency, Sarah Wild, Science Editor for the Mail and Guardian, and Professor Robin Grimes, Chief Science and Technology Adviser to the Foreign and Commonwealth Office in the UK, evaluated the finalists on the content, clarity and charisma of their talks.
This year's winner Stevie Biffen, is a Masters student from the University of Cape Town. Her talk "The science of Happiness" explored how the brain interprets emotions. More importantly, how can we use this to increase our happiness? All our instantaneous emotions are expressed in the amygdala (a tiny part of the brain named after the Greek word for almond, as that is what it resembles). However, our brain also uses the frontal lobe to interpret these instantaneous emotional responses on a more rational level. Thus, the frontal lobe can be used to interpret negative emotions in a more positive light. In summary, an instantaneous negative emotion does not need to become a negative thought, which, in turn, can lead to a negative lifestyle. Thus, we all have the secret to true happiness within our brains, so long as we learn how to use this magnificent organ to our advantage.
Stevie is off to The Cheltenham Science Festival in June to compete in the Global Famelab finals and is hoping to bring the prize home to South Africa.