Press release
False rape accuser jailed after Solicitor General's referral
Anna Judith Costin has her sentence increased as a result of the Solicitor General's referral to the Court of Appeal.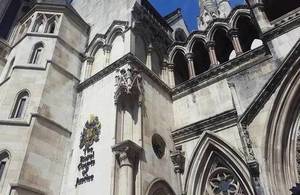 A woman who falsely accused 4 men of sexual or violent offences has been sent to prison after the Solicitor General, Robert Buckland QC MP, referred her sentence for being too low.
Anna Judith Costin, 30, accused her victims of rape, sexual assault, or assault during early 2016. None of the men were charged, but as a result of the false reports some spent time in custody, were harassed by members of the public, or suffered psychologically.
Costin was originally sentenced at Shrewsbury Crown Court in March, where she was given a sentence of a 3 year community order and 60 day rehabilitation activity requirement. Today, after the Solicitor General's reference, the Court of Appeal increased her sentence to 4 years immediate custody.
Commenting on the sentence increase, the Solicitor General said:
"False rape allegations have a serious impact not only on the lives of the accused, but can also have an indirect but profoundly damaging effect on genuine victims of rape. It is important that Costin's sentence reflects the gravity of her crimes."
Published 23 May 2018