World news story
Falklands' links with Chile celebrated
Acting Governor hosts Chilean Independence Day reception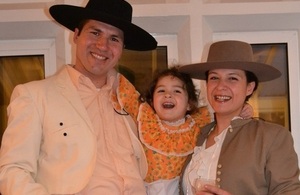 To mark Chilean Independence Day, the Acting Governor of the Falkland Islands, Sandra Tyler-Haywood, hosted a reception on September 18 for Chilean members of the Falkland Islands community. During a speech of welcome, she commented on the historic ties between the Falkland Islands and Chile. The full text of the speech follows:
Bienvenidos a todos a Government House para celebrar el día de Independencia de Chile - Welcome, everyone, to Government House to celebrate Chilean Independence Day.

Firstly I should start with an abject apology for my poor Spanish pronunciation; being a Portuguese speaker I naturally lean towards Portuguese pronunciation. I am attempting to learn Spanish so hopefully next year, if I am lucky enough to host this event, I hope to be a lot better.

It is fantastic to see you all here tonight - we have some people who have been here many years and some new arrivals - and it is fantastic to see the way the Chilean population has grown. Just sixty years after Chilean Independence in 1810 a Chilean Consulate was opened in the Falklands which demonstrates our clear historic links with Chile. The Consulate remained open until well into the 20th Century. In around the 1970s, steady numbers of Chileans came to the Falkland Islands, mainly from Punta Arenas and the Magallanes region, with many making the Islands their home. Today over 6% of the total population of the Islands are Chilean but the links are much deeper with a number of Islanders having Chilean ancestry, whether Falkland Islands-Chilean, British-Chilean, Brazilian-Chilean or Spanish-Chilean. With those close ties maybe we will see a new Chilean Consulate being established in Stanley one day.

The relationship between the Chilean community and the Islanders is one that is very strong with a respect for each other, respect for our cultures and with everyone working together towards the economic development of the Islands. The contribution of the Chilean community is important for the Islands' economic future and cannot be underestimated.

Opportunities exist to build stronger ties with Chile, through trade, science & research and cultural exchanges. The benefits of these types of exchanges is considerable and would benefit both the Islands and Chile. I hope we can, with your help, build on the ties we have and deepen the relationship.

Me gustaría terminar con proponer un brindis por Chile y las Islas Falklands - To end, I would like to propose a toast to Chile and the Falkland Islands.

Por Chile, Felices Fiestas Patrias - To Chile, Happy Holidays and to the Falklands, for continued success in the future.
Published 22 September 2014