World news story
Falklands farewells Governor Nigel Haywood
Governor Nigel Haywood CVO hands over his sword to the Speaker of the Falkland Islands Legislative Assembly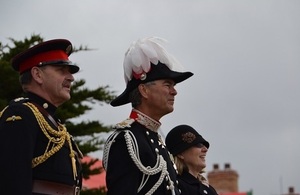 After more than three years in the Falkland Islands, Governor Nigel Haywood has carried out his final official act.
At a farewell parade held on the evening of Monday, February 24, Mr Haywood handed over his sword to the Speaker of the Falkland Islands Legislative Assembly, Mr Keith Biles, for safekeeping. Mr Biles will present the sword to Mr Haywood's successor when he is sworn in later in the year.
A large crowd gathered to say goodbye to Mr Haywood and his wife, Louise, with representatives from the Falkland Islands Government, Falkland Islands Defence Force and the British Forces all on parade.
At a reception the week before, Mr Haywood said it had been a privilege to be in the Falklands at such an important time in their development and he praised the Islanders who had "started to fight back against the lies and deceit of our neighbours across the water" by taking the self-determination message to the wider world.
He paid tribute to young Islanders and the role they had had in the future of the Falklands: "The priority the Falkland Islands Government places on education means they have opportunities that previous generations of Islanders could only have dreamed of. They are going away (to study) then coming back to bring up families here and the future for them and all Islanders is extremely bright."
Published 25 February 2014