World news story
Falkland Islands' MLA visits Uruguay
Dick Sawle, a member of the Falkland Islands Legislative Assembly, will be in Montevideo 2-6 September.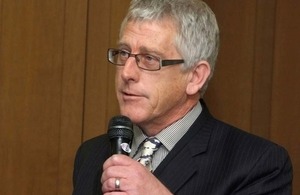 He will visit the country to inform about business opportunities with the archipelago and to strengthen the historical ties with Uruguay.
"I am very pleased to visit Uruguay and to have the possibility of talking with different sectors of the Uruguayan society about how the oil industry creates a lot of lucrative opportunities for the Islands and neighbouring countries".
During his visit to Montevideo Mr. Sawle, one of the eight members of the Falkland Islands Legislative Assembly, will give a conference organized by the British-Uruguayan Chamber of Commerce. He will speak about the main economic activities in the Falkland Islands, their future strategy and opportunities to strengthen trade with Uruguay.
Mr. Sawle comes to Uruguay after a week in Brazil. The British Ambassador, Ben Lyster-Binns, said that, "The government of the Falkland Islands considers the relationship with both countries and with Latin America a priority, and is looking to strengthen it".
Published 30 August 2013