World news story
Falkland Islands' MLA visited Uruguay
Dick Sawle (Member of the Legislative Assembly, MLA) came to Montevideo to strengthen political and economic ties with Uruguay.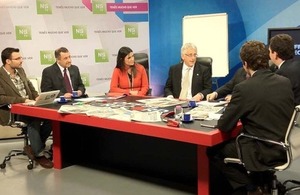 During his visit to Montevideo, 2 to 6 September, Mr. Sawle, one of the eight members of the Falkland Islands Legislative Assembly, said that "as a Government we are looking for ways to attract people and companies to invest in the Falkland Islands".
Sawle gave a talk, organized by the British-Uruguayan Chamber of Commerce, about the main economic activities in the Falkland Islands, their future strategy and opportunities to strengthen trade with Uruguay. He also explained how the oil industry creates a lot of lucrative opportunities for the Islands and neighbouring countries.
He was also interviewed by journalists from different media and was invited to the TV programme "Off the Record" in Nuevo Siglo TV (see picture).
The MLA said that he understands that South American governments will not change their official position about the Islands sovereignty "in 5 minutes, 5 days or maybe 5 years" but also that "we can leave that behind and start talking about business and opportunities for Uruguayan companies in the Falkland Islands."
The Falkland Islands Chamber of Commerce is planning a visit to Uruguay in October to explore trade opportunities.
See more about Mr. Sawle's visit in this video:
Published 16 September 2013
Last updated 16 September 2013
+ show all updates
change spanish
Spanish version
Added translation