"Falkland Islanders must be masters of their own fate"
In an article published today the Foreign Secretary William Hague sets out why the future of the territory can only be decided by its people themselves.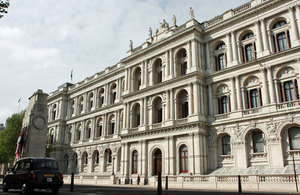 Last Saturday, the writer Simon Winchester and the Argentine Foreign Minister made the case for a negotiated handover of the Falklands. Here the Foreign Secretary sets out why the future of the territory can only be decided by its people themselves.
"The future of the Falkland Islands is about people: their freedom to determine their own future and to develop their own community and economy. Thirty years after the Argentine invasion, their right to self-determination remains, and will always remain, the cornerstone of our policy. This is in tune with the beliefs in human and political rights of the 21st century, but it is also rooted in history.
With the exception of the two months of occupation by Argentina in 1982, the Falklands have been continuously and peacefully inhabited and administered under British sovereignty since 1833.
Argentina alleges that Britain took the Falklands by force in 1833, expelling the civilian Argentine population and supplanting it with British subjects. The facts speak differently: Britain took formal possession of the islands in 1765, establishing various settlements over the next half century before the independent state of Argentina came into being.
In 1832 Argentina dispatched a military garrison to the islands. Britain protested and sent forces to remove it. No civilians were expelled and historical evidence suggests that the majority of the 30 or so civilians chose to stay. British settlers arrived from 1833 onwards, and were joined by other nationalities.
In 1850 Britain and Argentina signed an agreement to settle their "existing differences". And in the 90 years between 1850 and 1940 Argentina made only one formal diplomatic protest over the Falkland Islands, in 1888.
The islanders of today live in a diverse and democratic society. Many have lived there for generations - there are children on the islands whose Falklands ancestry can be traced back nine generations. As with Latin America, the population has grown through a natural flow of migration.
And although they retain their links to the UK as an overseas territory, the islanders elect their own leaders and make their own decisions about how to govern their own affairs. While they are justifiably proud of their links to Britain, many say that they are Falkland Islanders first and British second.
Only the islanders can be the masters of their future. We will never impose a different kind of political association, or agree to changes in sovereignty, unless and until the islanders themselves wish it. This has been the policy of successive British governments.
The Argentine Government characterises its position as reasonable, saying that it wishes to negotiate peacefully a "resolution". Britain has always been open to discussions with Argentina, and that, of course, remains the case. There are many areas on which we can co-operate: on joint management of fish stocks, on hydrocarbon exploration and on strengthening air and sea links between the Falklands and South America. We used to do this in the 1990s and ought to be able to do it again. But we will never negotiate sovereignty without the consent of the islanders. Self-determination is an established principle in international affairs, embedded in the UN Charter.
While we are happy to talk, recent Argentine governments have taken a less constructive approach. They walked away from the South Atlantic Fisheries Commission, thus - as The Times recently reported - risking serious damage to fish stocks in the South Atlantic. Argentina has withdrawn from a 1995 agreement to co-operate on oil exploration and, in violation of the principles of global free trade, targets companies that operate in Falklands waters.
Instead of working for a mutually beneficial solution for commercial air links, Argentina has banned charter flights and prevented most scheduled air services. At sea, Argentina has sought to impose restrictions on Falklands vessels travelling through the international Strait of Magellan or calling on other South American ports.
If it is genuinely interested in progress it should stop these attempts to intimidate a civilian population. It should agree to discuss how, as democracies, the Falklands, Britain and Argentina can work together in the South Atlantic neighbourhood in our common interest.
Many aspects of our relationship with Argentina are positive, but they have the potential to be so much more productive. For our part, we stand ready to build on this potential for the benefit of all our citizens and of wider peace and security.
I believe this would be welcome in the region too. This week I was in Brazil where, as part of a broad agenda, we discussed these South Atlantic issues. I know that the statement by the Latin American bloc Mercosur last month, apparently banning vessels that fly the Falkland Islands flag, troubled many people. In my view it had no legal or political justification.
But in discussions with regional partners over the past few weeks it has become increasingly clear that this declaration will present no practical impediment to the ability of ships to travel between the Falklands and South America. Moreover, I see no regional appetite for joining Argentina in its attempts to damage the islands' economy or target the livelihoods of islanders, and I welcome that.
Whatever political differences there may be between UK and South America on our sovereignty of the Falklands, we have with Brazil and other partners a relationship where we can discuss them honestly, and address them in the context of international law and respect for the human rights of the islanders.
We will also continue with our wider policy of deepening and broadening Britain's engagement with Latin America as a whole, sending more diplomats, opening diplomatic missions and boosting trade and cultural ties. Mine was the fifteenth British ministerial visit to Brazil in the past year - testament to a change in our relations.
I look forward to us intensifying these efforts over the coming years, for there is great potential in this new relationship. As we take it forward, we will always ensure that the wishes of the Falkland islanders and their right to self-determination are never in doubt."
This piece first appeared in The Times newspaper
Published 21 January 2012