World news story
Falkland Islanders make case for self-determination in Honduras
One member of the Falkland Islands Legislative Assembly (MLA), and one young Falkland Islander visited Honduras on 6 and 7 April.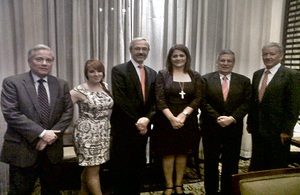 MLA Barry Elsby and young Islander Krysteen Ormond engaged with journalists, government officials and civil society leaders to explain the results of the recent referendum to remain a British territory, to make their case for self-determination, and their strong wish to enhance relations with their Latin American neighbours, including Honduras.
With the assistance of the British Embassy they met with the Vice Minister of Foreign Affairs, María Dolores Aguero, and members of Congress Donaldo Reyes and Waldina Paz. The Falkland Islanders expressed their desire to grow commercial and cultural ties with Honduras; and encouraged Hondurans to visit the Islands, to see at first hand the reality of life on the islands.
At the conclusion of the visit MLA Barry Elsby said:
As with other countries we have visited in the region, people in Honduras are willing to listen to how the Falkland Islands have developed into a self governing and self financing country. They also recognise the importance of our recent referendum, representing as it does the wishes of the people of the Falkland Islands and the desire for self determination.
British Ambassador to Honduras, Sarah Dickson, said:
It was important for Hondurans to hear direct from Falkland Islanders about their strong desire for self-determination. The UK has made clear that we believe in the rights of the Islanders to be able to choose their path. They did so in March when they voted overwhelmingly to remain a British territory. All countries should respect the results of the referendum. I'm sure that improved links between Honduras and the Falkland Islands will be of mutual benefit to both countries.
Published 15 April 2013