News story
Fairer part-time study repayment system announced
Universities and Science Minister David Willetts said: "We are extending tuition loan support to part-time students so that they are treated…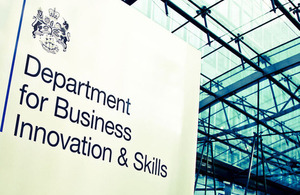 Universities and Science Minister David Willetts said:
"We are extending tuition loan support to part-time students so that they are treated more fairly than ever before. We have listened carefully to the sector, including Birkbeck and the Open University, about the details of this because we are determined to provide the best possible regime for part-time students. I can now announce that we will amend the legislation so that no part-time student will have to repay a penny until almost five years after their course has started.
"Employers particularly value graduates who already have experience of the workplace, which is why making part time study more accessible is so important."
Martin Bean, Vice-Chancellor of The Open University, said:
"We are delighted by the Government's decision regarding part-time repayment arrangements. This provides even more flexibility for part-time students who, for the first time ever, will not have to pay upfront and will not have to start repaying their loan until at least four years after they have started their studies. This is another important step to ensure that the UK has a higher education system which is innovative, flexible and offers students the highest quality.
"Now more than ever, the UK needs to upskill its workforce and tap the potential of people from all backgrounds. We look forward to continuing to work with Ministers and all parties over the coming months to ensure that we continue to have a world class sector that is open to all who have the ambition to succeed."
Professor David Latchman CBE, Master of Birkbeck, said:
"We are delighted that the Government has understood the need to put part-time students on a level footing with full-timers. We can now communicate clear and compelling messages to our non traditional students - undergraduate study will be free at the point of study and loan repayment starts after graduation when salaries are £21,000 or above. For many part-time students, who are more likely to be mature students, juggling study with family, mortgages and other financial commitments, this will be an important consideration when thinking about entering higher education. This is a vital step towards securing equity for the part-time and full-time sectors."
Notes to editors:
---
These changes are subject to Parliamentary approval.

Repayments:
If approved repayments will now be due from the April which falls 4 years after the start date of the course is the student is earning over £ 21,000.

Borrowers only start to repay loans when they earn over £21,000 a year. The repayment rate will be 9% of income above £21,000. If earnings fall below £21,000, repayments stop - for example during a career break or unemployment. Repayments only start again when earnings are over £21,000. Loan repayments will normally be deducted from salary through the tax system.
Any loan not repaid after 30 years is written off.

_Rate of interest:
_Interest will be applied at inflation (RPI - Retail Price Index) plus 3% while studying, and up until the April borrowers are due to start repaying.
From the April borrowers are due to repay interest will be applied at the rate of inflation (RPI) (for those earning £21,000 or less); interest will be applied between RPI and RPI + 3% on a gradual scale depending on income for those earning between £21,000 and £41,000; and for those earning £41,000 or more, interest will be applied at RPI + 3%.

Borrowers who commence studies in 2012/13 or later, and who are studying on short courses or who leave their course early and would normally have been due to make repayments before April 2016 will not have to make repayments until that date.

For those who finish their course earlier, the Student Loans Company will apply interest at RPI only from the April after borrowers leave their course until April 2016. From April 2016, the interest applied to the loan balance will depend on income.
7. _The study, Futuretrack: Part-time Students from an Employer Perspective_, published by the Higher Education Careers Services Unit (HECSU) in January 2011 found that employers highly value graduates who gained their qualification while studying and working part time - see http://nds.coi.gov.uk/content/Detail.aspx?ReleaseID=417595&NewsAreaID=2__
8. __BIS's online newsroom contains the latest press notices, speeches, as well as video and images for download. It also features an up to date list of BIS press office contacts. See http://www.bis.gov.uk/newsroom for more information.
Notes to Editors
Contact Information
Name BIS Press Office Job Title
Division COI Phone
Fax
Mobile
Email NDS.BIS@coi.gsi.gov.uk
Name Michael Gibbs Job Title
Division Department for Business, Innovation and Skills Phone 020 7215 1635 Fax
Mobile
Published 26 October 2011