Press release
Fail rates for HGV tests hit all time low
More heavy goods vehicles (HGVs) pass their annual tests than ever before.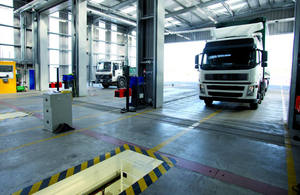 More HGVs than ever before are passing their annual test first-time thanks to new innovations and close collaboration between VOSA and the industry.
This week VOSA published its VOSA effectiveness report 2009 to 2010 which shows that initial test fail rates have fallen below the 30% mark for the first time since the agency began logging test results in 1992.
The figure for 2009 to 2010 stands at 27.4%, significantly lower than the 32.4% reported in 2008 to 2009 and 36.5% in 2007 to 2008. VOSA has attributed this to an innovative approach to testing and ever closer links with the industry to help them achieve compliance.
By making performance reports available online, VOSA has enabled operators to manage their own compliance more proactively with 47% of operators now signed up.
VOSA has also worked closely with vehicle manufacturers on initiatives to drive up first time pass rates at their dealerships. By being given access to performance data provided by VOSA, manufacturers are able to set targets and incentivise dealers to ensure their vehicles pass first time.
In addition, the agency has worked with the industry to simplify testing standards for headlamp aim in 2008 which has proved to be a success. Since then, a modern electronic method of assessing headlamp aim has been introduced which has lead to an improved pass rate.
VOSA Chief Executive Alastair Peoples said:
I am really encouraged by these latest figures.

A lower first time pass rate shows that roadworthiness standards are improving. This means safer roads for everybody.

VOSA is working ever closer with the industry to push up compliance and our innovative on-line services are proving to be a really effective tool.
Download VOSA effectiveness report 2009 to 2010
Notes to editors
VOSA is responsible for:
processing applications for licences to operate lorries and buses and registering bus services
operating and administering testing schemes for all vehicles, including the supervision of the MOT testing scheme
enforcing the law on vehicles to ensure that they comply with legal standards and regulations
enforcing drivers' hours and licensing requirements
supporting Traffic Commissioners to help them make informed decisions on operator licensing, vocational drivers and bus registration requirements
providing training and advice for commercial operators
investigating vehicle accidents, defects and recalls
VOSA media enquiries
You should contact our press office if you have a media query or you're a journalist.
Published 8 November 2010