World news story
Eyes for equality for improved inclusion in Macedonia
British Embassy supports programme delivering for more inclusive policies and practices to strengthen the cohesion among communities in Macedonia.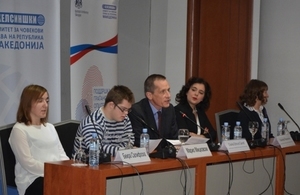 Current status of people coming from vulnerable communities and what are the measures needed to improve their situation was at the centre of the conference organised within the programme implemented by the Helsinki Committee of Human Rights in Macedonia, with the support of the British Embassy Skopje.
The programme focuses on supporting people who are under the radar of the mainstream reforms to get access to justice and public services allowing them to be more included in the society; become more visible; join the education and labour market and be more integrated and accepted in the society.
The activities within the programme so far, organised by the Helsinki Committee of Human Rights in Macedonia included workshops, analysis, networking, surveys, free legal assistance and advice to support these vulnerable communities.
Ambassador Charles Garrett and Uranija Pirovska, President of the Helsinki Committee spoke at the opening session of the conference. They were joined at the panel by Beira, Vera and Mario, who gave first-hand accounts of how it is to live, be schooled and work with disabilities.
Labour and Social Policy Minister of Macedonia Mila Carovska, Neda Calovska, the legal advisor at the Committee, experts who have done analysis, as well as members of civil society organisations and families of disabled people spoke at the event, engaging in a debate how to raise more awareness about these issues and improve the status of disabled people in Macedonia which would lead to greater social cohesion among the various communities in the society.
Our Ambassador Charles Garrett said:
When my daughter was born with Down's syndrome, I felt like I was the only person I knew with a connection to disability. How wrong I was. Disability is not about random individuals dotted here and there across society. As that parent I quoted earlier correctly grasped, we are talking about most individuals developing some sort of disability at some stage. Think of those you might know who gradually lose their hearing as they age, or their sight, or who lose a limb in an industrial accident, or who develop dementia or who have a less obvious disability.

All these people will need some sort of support or consideration from society. It is of course in society's own interest to ensure that all individuals are supported, included and can play their full role. That makes society stronger. It also makes society stronger to face up to its challenges rather than trying to pretend that they do not exist.
British Embassy Skopje runs a range of programme assistance in Macedonia providing support in several reform areas with judiciary, human rights, democracy, social cohesion, public finance management, strengthening civil society and media. You can find more information about our programme assistance here.
Published 16 November 2017