Extra measures to tackle PPI claim pests
A specialist team to crackdown on bad practice in the Payment Protection Insurance claims market has tackled more than 200 rogue firms.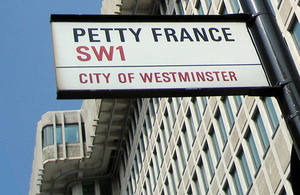 A specialist team created to crackdown on bad practice in the Payment Protection Insurance (PPI) claims market has helped tackle more than 200 rogue firms and is being strengthened to monitor even more companies.
The team was set up by the Ministry of Justice's Claims Management Regulation Unit to monitor the hundreds of firms that deal with PPI.  Customers are offered help to claim compensation from banks, building societies and others which mis-sold them PPI for credit cards and other financial products.
 
A new report from the unit, which has banned 103 PPI firms from operating and warned 149 for poor practise in the last year, found the main causes for consumer concern were:
misleading marketing
high-pressure selling
poor complaints systems
unclear fees
The majority of complaints the unit receives are related to PPI claims management companies, with 10,109 between 2011-12.
Head of Claims Management Regulation, Kevin Rousell, said:
 
"The mass mis-selling of payment protection insurance (PPI) has seen complaints against claims management companies soar. 
 
"As this report shows, we won't tolerate firms that break the rules and we have shut down or warned 252 companies dealing with PPI claims in the past year. As part of our continued crackdown we are expanding our compliance work to ensure even more rogue companies clean up their acts or face closure.
 
"We would advise consumers to consider whether they need to use a claims management company to make their claim. Companies can help them - but they may well be able to make the claim on their own."
 
View the report, The PPI Claims market: Dealing with Malpractice, here.  
For further information please visit the Claims Management Regulation page.
Published 8 February 2013