News story
Extension of the UK India Education and Research Initiative
The expanded programme is likely to have strands of collaboration on higher education, skills, leadership and quality in education, and work…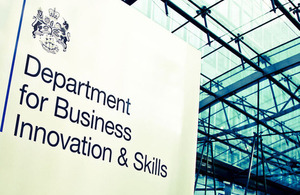 The expanded programme is likely to have strands of collaboration on higher education, skills, leadership and quality in education, and work to build on the existing UKIERI programmes which have helped bring more students from the UK to India.
On the same day, David Willetts, Minister for Higher Education and Science and Kapil Sibal, Minister for Human Resource Development discussed some of their priorities for the new programme. Commenting on his meeting with Kapil Sibal, David Willetts said: "My discussions with Minister Sibal have been very positive and will pave the way for even greater collaboration between India and the UK. We discussed ways in which we can broaden, deepen and strengthen our relationship. I look forward to working with Minister Sibal as he seeks to meet his ambitious targets of providing skills education to 500 million young people and creating 40 million new university places over the next 10 years."
The programme will build on the success of the UK-India Education and Research Initiative, and will also contribute to the development of India's 14 world class Innovation Universities though partnerships with leading UK institutions. Universities that have already shown an interest in the opportunity to form such a partnership include Oxford, Cambridge, Imperial College, Open University, Essex, Exeter, Birmingham and Newcastle universities.
---
Detail of the programme will be developed through broad consultation in the coming months between the two governments, with inputs from stakeholders from educational institutions and businesses in the UK and India.
Professor Steve Smith, President of Universities UK, who is in India as part of the delegation said: "We have been very impressed by the scale of the expansion in India's higher education system and are very pleased to be building upon the existing institutional links between UK and Indian HE institutions. Higher education is an integral means of deepening and broadening this important bilateral relationship with India.
"I now look forward to returning in November, with the Minister and a delegation of vice-chancellors, in order to discuss further the means of increasing the level of university partnership activity between our two countries."
Notes for editors:
---
For details of the current UKIERI programme, see [www.ukieri.org].

The UK Department for Business and Innovation and Skills and the British Council have already committed £2.5m/year for the launch of the new initiative. The current UKIERI is also part-sponsored by businesses. It is hoped that business sponsors in both countries will also support the new programme.

BIS' online newsroom contains the latest press notices, speeches, as well as video and images for download. It also features an up to date list of BIS press office contacts. See [http://www.bis.gov.uk/newsroom](http://www.bis.gov.uk/newsroom) for more information.
Notes to Editors
Contact Information
Name BIS Press Office Job Title
Division COI Phone
Fax
Mobile
Email NDS.BIS@coi.gsi.gov.uk
Name Emma Griffiths Job Title
Division Department for Business, Innovation and Skills Phone 020 7215 5982 Fax
Mobile
Published 29 July 2010