Extension of the UK-Iindia education and research initiative
On 29 July, Prime Minister Cameron and Prime Minister Singh agreed to the extension of the successful UK India Education and Research Initiative.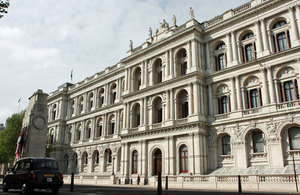 On 29 July, British Prime Minister David Cameron and Indian Prime Minister Dr Manmohan Singh agreed to the extension of the successful UK India Education and Research Initiative (UKIERI), which has already created almost 600 new partnerships between UK and Indian institutions at all levels of the education system. The new programme will be funded by both Governments.
On the same day, David Willetts, Minister for Higher Education and Science and Kapil Sibal, Minister for Human Resource Development discussed some of their priorities for the new programme. Commenting on his meeting with Kapil Sibal, David Willetts said: "My discussions with Minister Sibal have been very positive and will pave the way for even greater collaboration between India and the UK. We discussed ways in which we can broaden, deepen and strengthen our relationship. I look forward to working with Minister Sibal as he seeks to meet his ambitious targets of providing skills education to 500 million young people and creating 40 million new university places over the next 10 years."
The proposed content of the programme is likely to strands of collaboration on higher education, skills, leadership and quality in education, and work to build on the existing UKIERI programmes which have helped bring more UK students to come to India. On higher education, there will be a particular focus on India's new innovation universities, on which several of the UK's most innovative universities have already indicated there desire to build new collaborations.
Detail of the programme will be developed through broad consultation in the coming months between the two governments, with inputs from stakeholders from educational institutions and businesses in the UK and India.
Published 29 July 2010