World news story
Exporting food and drink to Japan
The food and drink market in Japan is huge. This recorded webinar will help you understand the potential for your company to export here.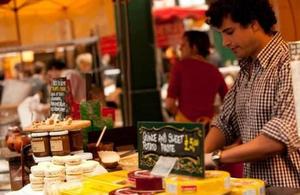 As the world's third largest economy, and second largest food market, Japan offers great potential for British food and drink producers. Japan's domestic food and drink market is very strong, offering a diverse range of high quality products. Yet foreign foods are equally as popular and demand for British products in particular is ever increasing.
What you need to know
This recorded webinar will provide you with a critical overview of how to go about exporting to Japan in the right way. Only a small percentage of food and drink products exported to Japan achieve success. We provide examples of what works for this market and what does not, as well as the issues and challenges you may face.
You can gain a strong understanding of the following:
an overview of the Japanese food and drink market
export/distribution options
why many foreign food and drink products fail in Japan
lessons learned, preparation and factors for success
the best potential products for the Japanese market
Watch our video to take your next steps towards exporting to Japan.
Preview: Exporting Food to Japan
About our guest speaker
Mr. Duco Delgorge is the President and Chief Executive Officer (CEO) of MIE PROJECT Co., Ltd. The company is a leading importer and distributor of organic, fair trade, and natural food and drink products to the Japanese market. It has a strong base of over 30 suppliers from 11 countries.
Based on 23 years experience of importing food into Japan, Duco Delgorge shares his thoughts on what food companies need to consider when exporting to Japan.
Next steps
Watch the full webinar to find out how to get it right when exporting food and drink to Japan.
Contact the UK Trade and Investment (UKTI) Japan team for further advice and support on doing business in Japan.
Published 11 March 2015