Press release
Export Week to help firms target high growth markets
Lord Green will this week launch a series of events up and down the UK to promote business abroad.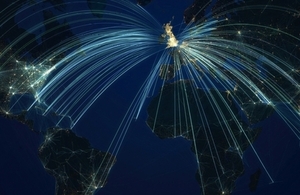 Export Week, between 13th -17th May, is a nationwide, week-long, series of events with the theme of high growth markets.
Launched by the Prime Minister in November 2011, Export Week is an initiative to boost the number of small businesses that export. The government has set a national target of getting 100,000 more British SMEs exporting over the next 5 years.
Export Week is a major component of the National Challenge and is part of a concerted campaign led by Lord Green to increase the number of British companies who export, from current levels of around 20 per cent to 25 per cent or more. By increasing the number of companies who export by roughly a quarter, about £36 billion could be added to the UK economy.
Trade & Investment Minister Lord Green said:
Companies of all sizes are increasingly winning business abroad proving that exporting is not just for the large firms.
Research conclusively shows businesses that export become more innovative, more productive and achieve a level of growth that would not otherwise be possible.
Our future prosperity rests on UK companies doing business abroad. I hope that Export Week will encourage companies not already doing so to think about trading abroad.
Events throughout the week will include seminars on high value opportunities in these markets, international finance and trade workshops, training on international marketing and utilising websites, targeted market days and much more.
Ambassadors from many of the high growth markets around the world will be available at a number of the events to personally advise on and explain the benefits of doing business in their markets. They will be joined by experienced businesspeople who are already trading abroad.
UKTI trade advisors will be on hand to advise both inexperienced and experienced exporters on how to get started and expand into High Growth Markets. Experienced exporters will also be available to relate how international trade helped their businesses become more profitable.
Notes to editors:
1.Activities will heavily focus on a range of High Growth Markets, including Brazil, Colombia, China, Egypt, Hong Kong, India, Indonesia, Malaysia, Mexico, Qatar, Russia, Saudi Arabia, Singapore, South Africa, South Korea, Taiwan, Thailand, Turkey, United Arab Emirates and Vietnam.
2.The government's economic policy objective is to achieve 'strong, sustainable and balanced growth that is more evenly shared across the country and between industries'. It set four ambitions in the 'Plan for Growth' (PDF 1.7MB), published at Budget 2011:
to create the most competitive tax system in the G20
to make the UK the best place in Europe to start, finance and grow a business
to encourage investment and exports as a route to a more balanced economy
to create a more educated workforce that is the most flexible in Europe.
Work is underway across government to achieve these ambitions, including progress on more than 250 measures as part of the Growth Review. Developing an Industrial Strategy gives new impetus to this work by providing businesses, investors and the public with more clarity about the long-term direction in which the government wants the economy to travel.
3.UK Trade & Investment (UKTI) is the government department that helps UK-based companies succeed in the global economy. We also help overseas companies bring their high quality investment to the UK's economy – acknowledged as Europe's best place from which to succeed in global business. UKTI offers expertise and contacts through its extensive network of specialists in the UK, and in British embassies and other diplomatic offices around the world. We provide companies with the tools they require to be competitive on the world stage. For more information on UKTI, visit www.ukti.gov.uk or visit the online newsroom at www.ukti.gov.uk/media.
Published 13 May 2013