News story
Export Week takes British business global
Focussing on small and medium sized companies, Export Week will give British businesses access to support from experts with experience in over…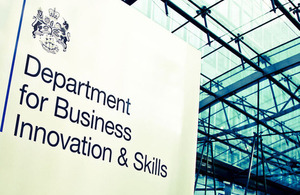 Focussing on small and medium sized companies, Export Week will give British businesses access to support from experts with experience in over 70 countries, unlocking the chance to boost sales overseas.
Local speakers will share their experiences of working overseas as more than 100 events will take place over the next five days to help businesses export.
Export Week 2012 is taking place exactly one year after the Prime Minister set a national challenge to raise the number of small businesses that export from one in five to one in four.
Trade and Investment Minister Lord Green said:
"Through Export Week, we want to further strengthen the momentum of the national challenge and reach as many businesses as we can with information about the support available for selling their products and services."
"The UK's future prosperity will not come from relying on domestic markets alone. We want to make sure that UK firms are not just trading abroad but thriving there and competing with the best the rest of the world has to offer.
"UK Trade & Investment has a crucial role to play and we are pursuing an ambitious programme to double the number of businesses we help by 2015. We are working in new markets and with new exporters from across Britain to make sure they have every opportunity to realise their potential."
John Cridland, CBI Director-General, said:
"To kick start growth, it's vital more firms expand into fast-growing markets. We have made some inroads, but must take advantage of the wealth of business opportunities out there.
"Small and medium-sized firms have a critical role to play in boosting the UK's export performance and we've recently estimated a potential prize of £30 billion up for grabs.
"Export Week will help give them the confidence to make this a reality, giving firms the tools they need to expand their business abroad."
Dr Adam Marshall, Director of Policy and External Affairs at the British Chambers of Commerce, said:
"As the premier private sector providers of international trade support to companies the length and breadth of the UK, accredited Chambers of Commerce are proud to support Export Week 2012.
"We know from experience that small and medium-sized companies are flourishing as they enter new markets across the globe, and we stand ready to work with UKTI and with colleagues in British Chambers of Commerce overseas, to offer practical advice and real help both to new exporters and to experienced companies looking to export even more."
Any company wanting to take part in Export Week can get involved by visiting the dedicated website at www.exportweek.ukti.gov.uk which gives details of events in each area.
Previous experience shows that more than half of British businesses who work with UKTI secure additional sales of £600,000 within two years, and new research released today shows that UKTI's regional network is delivering substantial benefits to firms across the country.
A survey of 600 businesses reveals that between 2010 and 2012, firms that received UKTI support showed a 5.5 per cent annual increase in turnover. The benefits of exporting are not confined to large companies, as 90% of those who work with UKTI are small and medium-sized enterprises.
Export Week will also promote the recently launched 'Open to Export' Service, a free online community that gives small businesses the guidance and in-depth information they need to expand their business abroad. www.opentoexport.com.
Through Open to Export, companies can access practical information on export topics, connect and engage with a range of exporters and explore the latest international opportunities for their business. In addition to accessing government advice, through international trade advisors based at British embassies and high commissions, companies can also receive support from existing and prospective exporters, lawyers, accountants and independent trade advisors.
**Notes to Editors
**1. UKTI has commissioned research into the effectiveness of the UKTI Regional Network. It reveals that firms that received UKTI support show an increase in turnover by approximately 11% from 2010 to 2012, or an annualised growth in turnover of 5.5%. The full report can be accessed here: http://www.ukti.gov.uk/uktihome/aboutukti/ourperformance/evaluation/specifictradeservices.html.
How UK Trade & Investment can help businesses:
On average, firms helped by UKTI, 90% of which are small and medium-sized, go on to win additional sales of £100,000 within 18 months.
Over half of UKTI customers go on to win additional sales of £600,000 within two years.
Companies that export are more competitive, more innovative, and more likely to engage in R&D.
UKTI can give advice on whether a firm is ready to export. UKTI can help with an export plan, counsel on the right markets and the right people to deal with in those markets, advise on grants for trade missions or overseas trade fairs, set up meetings, and generally help to make business happen.
UKTI has 220 trade advisers in 9 trade teams working locally to support businesses around the English regions. The devolved administrations have their own teams, delivering services analogous to UKTI's.
Overseas we have 1,000 officers in over 100 markets overseas, who can identify business opportunities around the world. They support businesses throughout the UK.
UK Export Finance has a range of schemes to help exporters obtain relevant funding such as insurance against non-payment and guaranteeing bank loans overseas. To find out more about export finance, visit www.ecgd.gov.uk.
For a free consultation with an international trade adviser in your area, and to find out about grants for overseas trade fairs and trade missions, go to www.ukti.gov.uk/export.
For free email alerts about business opportunities and events, register online at www.ukti.gov.uk/register.
UKTI recently announced that there is an additional £13 million of funding, available for the remainder of this financial year to help more business export.
The majority of the investment - up to £9 million - will go directly towards boosting trade opportunities for small and medium sized businesses (SMEs).
This additional funding for SMEs means:
There will be more money available for SMEs to attend trade shows abroad through expanding the Tradeshow Access Programme.

Substantial discounts will be offered on the Overseas Market Introduction Service (OMIS), which provides targeted market research to help businesses find those crucial first contacts overseas and to help them develop relationships in new, fast-growing markets.

There will be increased support available for travel on overseas trade missions.
The Government's economic policy objective is to achieve 'strong, sustainable and balanced growth that is more evenly shared across the country and between industries.' It set four ambitions in the 'Plan for Growth' (PDF 1.7MB), published at Budget 2011:
To create the most competitive tax system in the G20

To make the UK the best place in Europe to start, finance and grow a business

To encourage investment and exports as a route to a more balanced economy

To create a more educated workforce that is the most flexible in Europe.
Work is underway across Government to achieve these ambitions, including progress on more than 250 measures as part of the Growth Review. Developing an Industrial Strategy gives new impetus to this work by providing businesses, investors and the public with more clarity about the long-term direction in which the Government wants the economy to travel.
UK Trade & Investment (UKTI) is the Government Department that helps UK-based companies succeed in the global economy. We also help overseas companies bring their high quality investment to the UK's economy - acknowledged as Europe's best place from which to succeed in global business. UKTI offers expertise and contacts through its extensive network of specialists in the UK, and in British embassies and other diplomatic offices around the world. We provide companies with the tools they require to be competitive on the world stage. For more information on UKTI, visit www.ukti.gov.uk or visit the online newsroom at www.ukti.gov.uk/media.
Notes to Editors
Contact Information
Name BIS Press Office Job Title
Division Department for Business, Innovation & Skills Phone
Fax
Mobile
Email bispress.releases@bis.gsi.gov.uk
Name Lucy Bell Job Title
Division Department for Business, Innovation and Skills Phone 020 7215 5361 Fax
Mobile
Email Lucy.Bell@bis.gsi.gov.uk
Published 12 November 2012