News story
Export chief visits Aspen Pumps
From three men in a shed to award winning exporter – Sussex based manufacturing giant enjoys growing export success, with help from UKTI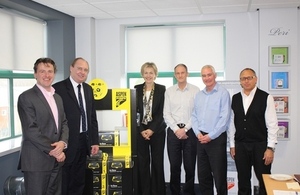 The South East's export chief, Lewis Scott, visited Sussex based manufacturing giant Aspen Pumps this week. He heard how the business will be driving significant expansion over the next five years, with help from export sales and UK Trade and Investment (UKTI).
Aspen Pumps
The Hailsham-based business, which began life as three men in a shed in 1992, now has an annual turnover in excess of £30 million, with approximately 80% from exporting.
Aspen Pumps design and manufacture condensate removal pumps and air-conditioning units. They were named winners of the Sussex Business Awards 2014 International Business of the Year Award.
The visit
During the visit Lewis Scott UKTI South East Regional Director, heard how the company are confident that entering new emerging markets will help them boost turnover.
He said:
This business is a fantastic example of a thriving British manufacturer. It's immediately apparent that their innovative approach has really boosted their international trade.

With a presence in 100 countries around the world they demonstrate what exporting can do for Mid-Sized Businesses (MSBs) and we are keen to help them do even more.
The business will be hoping to branch into other countries and markets next year – including the Middle East.
Serge Becker, Sales and Marketing Director, said:
We are committed to growing the business and are convinced emerging markets will play a significant role in this in the future. We have been working on developing relationships in a number of countries including India, with support from UKTI who continue to help us build contacts overseas. We were interested to hear from Lewis about plans for future support for growth and how new funding for exporters, announced in the Autumn Statement, will be used.
Lewis heard how the company have recently taken part in the UKTI India Marketing Scholarship Programme which they have said has helped them to further understand the market and develop a targeted marketing strategy.
Mr. Becker added:
With a population of 1.2 billion and 8 million new AC unit installations per year, the Indian market potential for our pumps is huge. One of the barriers for us is to fully understand the market regulations and requirements and ensure we reach the right audience – with help from UKTI we are beginning to do this.
Lewis added:
I'm impressed by what I've seen today. The company is clearly committed to growth and they are continually investing in their business for the benefit of the local and national economy. They are a great example of an already successful exporter who have the ambition to grow their international operations with the support of UKTI. Currently only 17% of the UK's MSBs generate revenues outside of the EU compared to 25% in Germany and 30% in Italy.
Published 17 December 2014