World news story
Expo Prado: Business opportunity for British companies
The British Embassy will have a GREAT stand at Uruguay's most important agricultural trade show. Find out how to take part.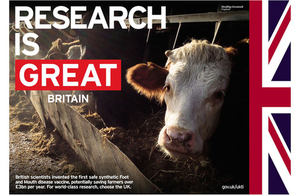 The GREAT stand will be part of the 110th Expo Prado in Uruguay
Expo Prado is the biggest agricultural event in Uruguay. Approximately 400,000 people visit the show every year– a mix of farmers, Uruguayan authorities, general public and trade exhibitors; mostly Uruguayan, but also companies from the region; and as well as the best in breed competitions and auctions, a lot of business networking gets done. The fair is strong on British breeds that have been imported over many years and highlight the strong agricultural links between the UK and Uruguay, which you can continue to build on.
What we did last year
Last year, for the first time in at least 15 years, the British Embassy organised a small UK pavilion at Expo Prado. This was done as a pilot and to gauge interest. Evaluation results proved it was a success. Therefore, we are participating again this year with a bigger, better and more innovative pavilion. Using the GREAT campaign, we will incorporate trade, tourism and education elements to promote the UK in Uruguay.
Why join the British Pavilion at Expo Prado 2015?
The PWC report Doing business between United Kingdom and Uruguay (PDF, 547KB, 36 pages)
commissioned by the British-Uruguayan Chamber of Commerce in 2014 concludes that there is potential demand in the primary sector and agribusiness - Expo Prado is the place to meet prospective importers, representatives, agents, farmers and other industry related contacts. You can take an individual stand inside the pavilion to promote products and services or use the shared business centre to meet with potential clients and local partners.
Why visit Expo Prado?
The British Embassy's British Pavilion offers an ideal platform for visitors that want to learn more about doing business in Latín America. Embassy staff will be on hand to help you get the most out of your visit, and we can put you in touch with UK Trade and Investment teams across the region. Conveniently, the capital cities of Argentina, Brazil, Paraguay and Chile are all within 3 hours' flying time away from Montevideo.
British Chambers of Commerce from across Latin America will host their annual conference during Expo Prado, celebrating their 100th anniversary which will be an excellent opportunity to find out more about regional markets.
Contact us
lf you are interested in joining us, please contact expoprado@fco.gov.uk by 30 June 2015