World news story
Exploring UK and Oman cooperation in the healthcare sector
Lord Howe, Under Secretary of State for Health and Dr Ahmed, the Omani Minister of Health attend seminar to explore UK- Oman ties in the healthcare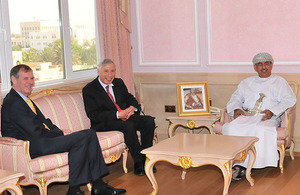 UKTI Muscat and Healthcare UK held a seminar showcasing UK expertise in healthcare to an audience of key decision-makers, health professionals and officials, at an event in Muscat on Wednesday 2 October.
In the presence of Lord Howe, Parliamentary Under Secretary of State for Quality at the Department of Health on his official visit to Oman; and HE Dr Ahmed Al-Saidi, Oman's Minister for Health, a delegation of 12 leading UK companies and institutions in the healthcare sector presented their expertise to an audience of over 50 leading healthcare providers, officials and decision-makers in Oman.
Ahead of the seminar, Lord Howe and HE Dr Ahmed held a private meeting to discuss areas of potential collaboration in health; and Lord Howe later visited health facilities in Muscat, including the National Diabetes Centre, the Dar Al Hanan ("Home from Home") Centre for Cancer Patients, and Ghobra Health Centre. The day ended with a dinner, hosted by HE Dr Ahmed Al-Saidi, for Lord Howe and all of the UK delegates. The seminar opened with a welcome from HE Dr Ali Al Hinai, Undersecretary for Planning Affairs at the Ministry of Health, who then gave a presentation on Oman's future plans and projects for the healthcare sector, including the development of the Sultan Qaboos Medical City, a $1.5 billion project (the tender for the master-planning is due shortly) and the development of a Faculty of Medical Science & Public Health in the proposed new University of Oman.
The UK delegates gave a series of introductory presentations to highlight their expertise in a number of fields specific to health, including training and education for health; IT systems for health; master-planning for health projects; facilities management of healthcare institutions; and clinical research.
A renowned leader in healthcare, the UK has a depth of expertise and experience in meeting the health needs of a diverse population; and is rated as the best European location for bioscience, healthcare/medical and clinical research. The seminar closed with a buffet lunch and the opportunity for the UK delegates and Omani decision makers and officials to network and further individual discussions.
Local press coverage: Oman Observer Oman Tribune
Published 3 October 2013