News story
Explore export during 'Export Week'
UKTI's Export Week has started with events taking place around the UK providing practical advice to UK companies wanting to do business overseas.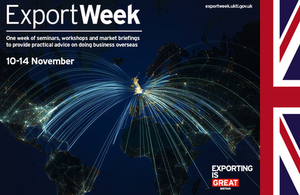 UK Trade and Investment (UKTI) is holding its sixth 'Export Week' from 10 to 14 November.
During the week there will be more than 70 events taking place across the UK. These seminars, workshops and market briefings aim to help companies either start their export journey or increase their international business.
It's also a chance for UK government to recognise the massive contribution export and exporters make to the UK economy, and for UK companies to celebrate their international trading success.
Find out about events in your region and sign up to take part in Export Week.
Dominic Jermey, Chief Executive Officer (CEO) of UKTI says,
We are a trading nation. The brand for UK goods and services is seen across the globe as a mark of quality, distinction and innovation, so there has never been a better time for British firms to break into international markets.

This Export Week UK Trade & Investment are hosting over 70 events up and down the country to help companies do just that, whether it is taking a first step on the export journey or breaking into new markets.

I would strongly encourage anyone thinking of export or exporting more to get in touch and come along. Join us to go global together.
ExploreExport
Our flagship roadshow, 'ExploreExport' will also tour the UK during 'Export Week'. It will feature 130 UKTI Commercial Officers and British Chamber of Commerce representatives from 80 countries.
The roadshow will visit 10 cities across the UK, making ExploreExport 2014 the largest event of its kind.
The roadshow will offer UK companies the chance to:
pre-book and attend one-to-one meetings with UKTI market specialists
find out about export opportunities in a range of markets
participate in export seminars
engage with exhibitors
network with hundreds of fellow exporters
Follow the #ExportWeek hashtag on Twitter, and use it to tweet and show your support for UK export and exporters.
Published 3 November 2014