Expert report on offshore clean-up is published
A Scottish Environment Protection Agency (SEPA) report on the effect of the off shore particle clean-up work has been published.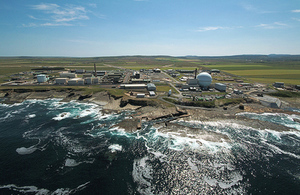 Dounreay Site Restoration Ltd today welcomed publication of a report by the independent Particles Retrieval Advisory Group (Dounreay)on the effect of the offshore particle clean-up carried out between 2008 and 2012.
The group succeeded the Dounreay Particles Advisory Group, which was set up in 2000 to give independent expert advice to the Scottish Environment Protection Agency and the then site operator (UKAEA). Its 76-page report published today makes a number of recommendations about monitoring of local beaches.
DSRL welcomed the report and says it will continue to monitor in accordance with a schedule laid by SEPA.
Report published on particle retrieval work at Dounreay - SEPA
Published 3 March 2016