World news story
Expats urged to tell friends and families to research thoroughly before purchasing a place in Spain
New Foreign Office video offers top tips to help prospective buyers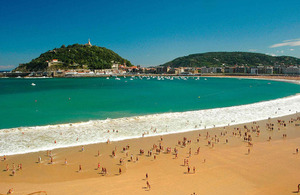 British expats who know someone planning to buy a place in the sun should tell their friends or family members back in UK to make sure they get free and helpful advice from the British Embassy staff who will be at A Place in the Sun Live at the National Exhibition Centre in Birmingham from 27th to 29th September.
Potential property buyers in Spain can also get lots of consumer-friendly information from a new Foreign Office video with advice on how to do your homework before taking the plunge.
Video Buying property in Spain
Spain continues to be amongst the most popular choices for Britons buying homes overseas, despite the economic crisis and well-publicised property scandals. According to the Spanish College of Registrars, over the past three years Britons have bought more than 12,000 properties in Spain, representing nearly one in five of all properties bought by foreigners.
Most have bought properties without experiencing any issues. But this is little comfort to the minority caught up in serious property problems who suffer the emotional distress and personal and financial effects.
British Ambassador to Spain, Giles Paxman, explains what the British Embassy has been doing:
Although we cannot take action on individual cases, we continue to engage with the Spanish authorities at all levels to encourage them to address property issues affecting British nationals.
We have seen the devastating effect property problems can have and we want to help prospective buyers avoid the potential pitfalls. They can visit the Spain-specific property advice pages on gov.uk, watch the FCO's new video and talk to our staff at the 'A Place in the Sun' exhibition.
All three offer helpful tips that will help future buyers purchase safely so that they can enjoy all the wonderful things that living in Spain can offer.
Mr Paxman concludes:
One thing that just about everyone affected by property problems says is that they want to make sure other people don't go through the same situation. People already living here can play an important role, by encouraging friends and family to do their research and get impartial legal advice before moving abroad.
Foreign Office staff will be on Stand B32 at 'A Place in the Sun Live'.
The Foreign Office publishes a range of advice on buying property and living in Spain, including:
Published 19 September 2013