World news story
Expansion of The UK Registered Traveller Service
The UK Home Office has announced on 25 January the expansion of its Registered Traveller service.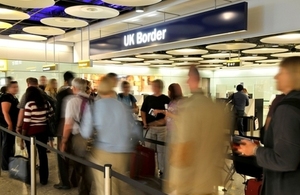 The scheme, which currently has 40,000 members, is now open to Taiwan passport holders who frequently travel to the UK. It aims to improve the traveller experience as they enter the country.
Registered Traveller (RT) enables faster travel through the UK border using dedicated lanes.

The Registered Traveller service was introduced in April 2015 to Australia, Canada, Japan, New Zealand, and the USA and currently has 40,000 members. It has now been rolled out to Hong Kong, Singapore, South Korea and Taiwan.

Applicants must hold a visa or have visited the UK a minimum of four times in the previous two years.
UK Immigration Minister James Brokenshire, said:
"I am delighted to announce the expansion of the very successful Registered Traveller service to Taiwan.
"The UK welcomes thousands passengers from Taiwan every year and we believe the Registered Traveller service for business travellers, for students and for regular visitors to the UK will only improve their experience at our borders."
Potential members must apply online and once UK Border Force officers have undertaken security checks, individuals are then provisionally accepted onto the service.
Once a Registered Traveller member, individuals are then eligible to use ePassport Gates and the EU/UK controls at Heathrow and other participating airports.
Notes to Editors
The Registered Traveller Service went live on 8 April 2015 for applicants aged 18 and over, from Australia, Canada, Japan, New Zealand and the United States.

The service was extended to include applicants from Hong Kong, Singapore, South Korea and Taiwan on 25 January 2016. In 2014 there were approximately 800,000 arrivals in the UK from these territories.

Most immigration categories are eligible to join the service including the majority of visa holders. Regular visitors are also eligible if they can demonstrate they have entered the UK a minimum of 4 times in the previous 24 months.

Applicants apply online. An application costs £70. This includes a non-refundable fee of £20 for considering the application and a £50 annual membership fee that will be refunded if an application is unsuccessful. There is a £50 charge to renew membership for a further 12 months.

Registered Travellers with biometric passports can use the ePassport Gates and can enter via the EU/UK controls at Heathrow and other participating ports (London City, Stansted, Birmingham, East Midlands, Edinburgh, Glasgow, Luton, Manchester and at Eurostar terminals at Paris, Brussels and Lille). Registered Traveller will be rolled out to Bristol and Cardiff in the coming months.

For more information please visit Registered Traveller
Published 26 January 2016