News story
Exhibition of Queen's Visit to Northern Ireland
Secretary of State co-launches Queen's Exhibition with Republic of Ireland's Minister of State Brian Hayes TD at Boyne Valley Visitors Centre.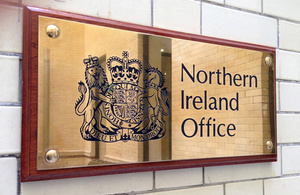 The Secretary of State the Rt Hon Theresa Villiers today co-launched Her Majesty the Queen's Exhibition with Republic of Ireland Minister of State, Office of Public Works Brian Hayes TD at the Boyne Valley Visitors Centre, Oldbridge, Drogheda, Co Meath.
The month long exhibition is to mark the visit of HM Queen Elizabeth II and HRH the Duke of Edinburgh to Ireland in 2011. The exhibition contains 6 large-scale displays, featuring photo and video montages of highlights of the Queen's visit. Her attendance at sites managed by the Office of Public Works, including Áras an Úachtarain, the Garden of Remembrance, the War Memorial Gardens, Farmleigh, Dublin Castle and the Rock of Cashel are all highlighted in the exhibition. There are displays of replica artefacts such as the 16th century Queen Elizabeth 1st Irish Primer, the Cashel Crozier and a replica of the place setting and menu from the state banquet in Dublin Castle and the signed visitors' book.
Speaking at the event the Secretary of State said:
I am delighted today to join Minister Brian Hayes in co-launching this wonderful exhibition in honour of the Queen's visit to Ireland last year which proved a momentous occasion for all. I congratulate the minister and all concerned on the magnificent display today which so aptly depicts Her Majesty's visit last year.
This site is of huge significance to all the people of Ireland, north and south, in respect of our shared heritage. It is entirely fitting that the year long exhibition closes at the Boyne Valley Visitors Centre. I would encourage as many people as possible to avail of this wonderful opportunity in the coming weeks and to enjoy all that the site has to offer.
During the visit the Secretary of State, accompanied by the minister, toured the centre, planted a commemorative tree in the Walled Garden and addressed the guests present.
Later the Secretary of State viewed the exhibition at the Bothy Building and prior to departure had the opportunity to tour the battlesite.
The Battle of the Boyne Site initiative arose from the undertaking in the Belfast Agreement "to take tangible steps to demonstrate respect for all the traditions on the Island of Ireland ".
Published 7 November 2012